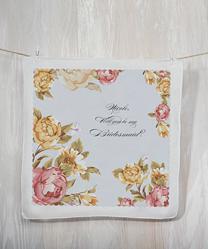 Dunmore, Alberta (PRWEB) June 05, 2013
Weddingstar Inc. has earned their reputation for 'Putting the Wow in Weddings' over the 30 years they've been in business. Consistently bringing innovation and new vision into the field of wedding design, Weddingstar has once again brought their signature style to life in their new giftware additions for 2013.
Adding to their already wide array of gifts for everyone from the wedding party to the happy couple themselves, one of Weddingstar's most unique options has introduced a new way to "pop the question," but this time its' to the bridesmaids! With their newly released Tea Rose Personalized Handkerchief, Weddingstar offers brides a new and stylish way to ask their best friends to be a part of their bridal party - with a custom designed present created just for them! Designed with a delicate and detailed rose pattern around the outside, brides can choose from a rainbow of colors as well as decide what get's written on every handkerchief with customizable text options which have become synonymous with Weddingstar over the past few years. Then it's simply a matter of unveiling the question to each girl friend or giving their custom handkerchiefs to them wrapped up in a box for a special surprise that's sure to make an impression!
Along with the Tea Rose Personalized Handkerchief, Weddingstar's other new releases are also designed with personalization as the key. Newly added to their selection of Personalized Tote Bags are more than 5 different designs, all of which are just waiting to be customized. With styles from nautical to eco-friendly, each one of Weddingstar's unique tote bags are a practical gift that can remind family and friends of the joyous occasion they witnessed, as well as pull practical duty in their daily lives! Not to mention that each bag is designed with style in mind, so they perfectly mix beauty and function to create one of a kind presents that are just as stylish as they are functional.
And, even though wedding's are often thought of as the domain of women, Weddingstar hasn't forgotten the men involved with their new additions to groomsmen gifts, like their new flasks. Sporting brushed stainless steel, Weddingstar flasks are perfect to steady grooms and groomsmen's nerves alike! With the ability to inscribe a monogram or name into the metal, they make a one of a kind present that's sure to be a hit and never get lost!
Weddingstar Inc. is one of the world's leading designers, manufactures and retailers of wedding decorations and accessories. Dedicated to providing quality service to brides around the globe, Weddingstar ships to over 100 countries worldwide with distribution points in Europe, North America, Australia and Russia. Featuring an ever-expanding selection of bridal accessories with over 3,000 different product offerings, Weddingstar is a one stop destination for every wedding need. With 30 years of experience in the wedding industry, and having received numerous business awards, Weddingstar has earned a reputation as the source for 'Putting the Wow into Weddings.' With unparallel design vision and customization options a plenty, they're a unique source for every wedding need. For more information please visit http://www.weddingstar.com.