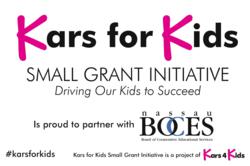 Career and technical learning programs are essential to advancing student education at trade schools and preparing them for real-world professions
New York, New York (PRWEB) June 04, 2013
Kars4Kids, a national car donation charity, announced today the launch of its "Kars for Kids" initiative. This new program will create experiential learning opportunities for students nationwide in engineering and automotive technology programs at career and technical education schools. On June 5, Kars4Kids will donate its first two cars to Nassau BOCES Barry Tech on Long Island.
"We are happy to kick off our Kars for Kids program with Nassau BOCES and contribute educational resources by providing their students with our cars," said Kars4Kids COO Avi Gordon. "Career and technical learning programs are essential to advancing student education at trade schools and preparing them for real-world professions. A key mission of Kars4Kids is to educate our youth and we look forward to assisting more schools nationwide with cars for educational purposes."
Kars4Kids will donate a 1998 Saab 900 and a 2005 Saturn ION to benefit students in Nassau BOCES Barry Tech's Auto Collision Technician, Auto Skills and Automotive Technology courses. Each course provides practical instruction in basic auto body repair and advanced techniques and technology. The courses also integrate environmental sustainability into the curriculum through lessons on specific regulations for the control of hazardous air pollutants. Students will be able to learn their skills through their comprehensive curriculum as well as through hands-on experience with the donated vehicles. Barry Tech is one of the few high schools in New York State to be designated an Automotive Youth Educational Systems Training Center where students who complete a course may receive college credit.
"All of our career and technical education courses provide students with the coursework and skills they need to move into the field or college of their choice," said James Clark, Nassau BOCES Barry Tech Principal. "We are excited about our new partnership with Kars4Kids and look forward to working together to provide our automotive technology students with cutting-edge opportunities to further hone their real-world skills."
This is the start of a long-term partnership between Kars4Kids and Nassau BOCES to assist in car donations for students' educational resources in the future.
Nassau BOCES is a public agency that serves the 56 school districts of Nassau County. It provides cost-effective shared services, including career training for high school students and adults, special education, alternative schools, technology education and teacher training, as well as dozens of programs to expand educational opportunities and help districts operate more efficiently.
Kars4Kids is a non-profit organization that works to give back to the community through a variety of education, youth development, family outreach, and faith-based programs. It provides an array of services to children and families including educational programming, school placement, tuition assistance, mentorship programs, cultural activities, religious instruction, recreation and guidance counseling.
For more news, information and educational updates from Nassau BOCES, visit http://www.nassauboces.org or follow Nassau BOCES on Twitter @NassauBOCES. For the latest information about the "Kars for Kids" initiative and other car donation opportunities, please visit the Kars for Kids page or follow Kars4Kids on Twitter @Kars4Kids.
More interesting car donations can be found in the Kars4Kids Garage.