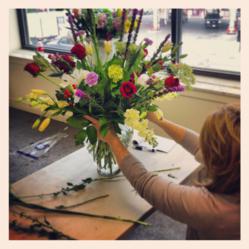 "Many of our students feel comfortable taking on projects even before they complete the course," says Michael Gaffney.
San Diego, CA (PRWEB) June 05, 2013
Next week starts a new beginning for students of the San Diego School of Flower Design. In just four weeks, students go from Beginner to Pro by learning the easy-to-understand patterns, design principles and formulas to create spectacular flowers easily and confidently of the Design Complete Course. Not only will they know how to arrange flowers, they will also be armed with the tips and tricks of the industry, including the wholesale market, marketing themselves and pricing. Owner Michael Gaffney will be there the first day of class to teach and hand out his book, Design Star, as well as sharing his stories and adventures with his dynamic personality.
Owner Michael Gaffney is a leading Floral Designer in the world of Interior Design as well as the Television and Motion Picture industries. Mr Gaffney has been seen on many TV shows, such as the Today Show, and his floral design work has been featured in several films. He has designed weddings and flower shows around the world. He will be appearing on the Hallmark Channel June 11 with Mark Steines and Cristina Ferrare.
His classes focus on teaching the tips and tricks of the trade to beginners and veterans alike. During the eight weeks, students will learn 24 different arrangements, from hand-tied and bridal bouquets, to classic American, European and Contemporary arrangements. All materials are provided for hands-on training and students take all of their creations home.