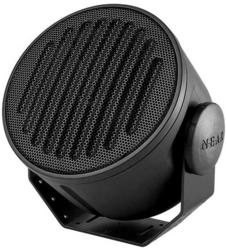 Milwaukee, WI (PRWEB) June 12, 2013
As the temperature continues rising, restaurant's outdoor dining areas are becoming more popular with customers. Restaurants are expected to provide these people with the same quality dining experience that they would receive inside. A part of this experience is background music and an efficient paging system for notifications. Weatherproof speakers tend to sound worse than indoor speakers. Finding outdoor speakers that are durable and provide high sound quality is difficult. It is usually one extreme or the other. Telcom & Data is pleased to introduce an outdoor speaker that contains the best of both. Bogen A-2 Series Outdoor Weatherproof Speakers are durable and provide the same high audio quality as indoor speakers.
Bogen Outdoor Weatherproof Speakers are designed to perform under the toughest conditions. The A-2 Series combines outstanding design with patented speaker technology for unsurpassed audio quality and weatherproof durability, ideal for music or paging. The speaker cabinets are made from a unique UV-inhibited mineral-filled polypropylene. This causes them to be extremely durable and have excellent acoustics. All mounting hardware is rust-proof and powder-coated to resist chipping and scratching. Bogen A-2 Series Outdoor Weatherproof Speakers are available in 8-ohm and 70V versions and come in three different colors.
For more information on Bogen A-2 Series Indoor/Outdoor Weatherproof Loudspeakers visit Bogen-Paging's website or call 800-335-0229
About Telcom & Data:
Since 1996 Telcom & Data has been providing thousands of telecommunications solutions to organizations around the world to measurably improve communications. The company is a leader in business phone systems, intercom systems, and mass notification products. Telcom & Data maintains a network of over 1600 technicians with locations in Chicago, Milwaukee, and Miami.
About Bogen:
Bogen Communications International, Inc., the parent company of Bogen Communications, Inc. and Speech Design GmbH, is a leading provider of sound systems and telephone peripherals for commercial, industrial, and institutional applications the world over.