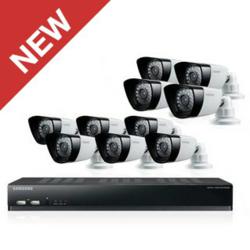 We have spent a great deal of time testing the entire Samsung home security line and are now proud to be able to offer it through our online store
Monroe, NY (PRWEB) June 04, 2013
ObservEye.com, a nationwide provider of affordable home surveillance systems, announced that it is now an authorized distributor of Samsung's line of home security cameras. As an authorized Samsung dealer, ObservEye will extend the full manufacturer's warranty and guarantee that its customers will receive the same level of after-market tech support they are accustomed to from this consumer-centric brand.
The home security line consists of easy-to-install home security cameras that are equipped to send live video directly from the router to the customer, wherever they happen to be, as long as there's an internet connection. Once the camera is set up, users connect with a push of a button, and then sign in to their secure feed from a smartphone or browser to view what's happening in front of the camera.
The wireless IP cameras in this line come standard with deluxe features such as night vision, two-way audio and real-time notification of unexpected motion or sound. Unlike many other wireless cameras, Samsung's cameras do not stream video from a remote server. The feed goes directly from the user's router to their browser or mobile device, resulting in a steady and reliable experience. ObservEye's retail pricing for the home security line starts as low as $59.
As an authorized distributor of the Samsung line, ObserveEye is proud to offer the newest addition, the SDS-P5100N 16 Channel DVR Security System. With this system, users can view a clear HD-quality video feed from virtually anywhere with an internet connection. They can even stream the video feed through their television sets with an HDMI cable.
ObservEye's founders made the decision to add Samsung's home security cameras to the brand's online assortment after rigorous testing and serious consideration. Because ObservEye's mission is to deliver peace of mind to customers, each new product introduction must meet the high standards of the company's quality assurance team. The product must be easy to use, deliver value, and be affordable for the general market. The team found that Samsung's line not only passed these checkpoints, but it did so with a sleek and modern style.
"We have spent a great deal of time testing the entire Samsung home security line and are now proud to be able to offer it through our online store. It is practical and affordable, and it has a style that I think our customers will really appreciate," said Joel Kraus, Director of Marketing for ObservEye.
About ObservEye:
ObservEye is committed to providing the public with wireless IP cameras for home security; cameras that are affordable for everyone. After years of market research and product evaluation, the company's three founders are finally seeing their vision come to fruition. They chose to be in the wireless IP camera market because of how the product can help provide peace of mind through monitoring residences, loved ones and places of business. ObservEye.com promises to hold itself to its core value of keeping a watchful and an observant eye for the next best thing and bring the best of the market to its customers.
Contact:
Joel Kraus
joel(at)observeye(dot)com