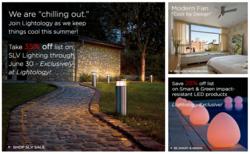 Lightology is "Chilling Out" this June with exclusive summer savings and promotions.
Chicago, IL (PRWEB) June 05, 2013
As summer heats up, Lightology plays it cool with exclusive summer promotions on contemporary ceiling fans, outdoor lighting, and landscape lighting. Now through June 30, Lightology customers can chill out with a wide selection of Modern Fan Company ceiling fans, save 35 percent on SLV Lighting, and save 28 percent on Smart & Green LED lighting.
Lightology Exclusive Sale: Save 35 percent on SLV Lighting in June. SLV Lighting has an extensive collection of stylish contemporary outdoor lighting, including path lighting, exterior bollards, outdoor wall sconces, exterior display lights, outdoor ceiling lighting, exterior floor lamps, and landscape lighting. Their indoor lighting collection features wall sconce, floor and table lamps, pendants, and ceiling mounted light fixtures. From sleek to industrial chic, SLV Lighting has cool solutions for contemporary spaces.
Lightology Exclusive Sale: Save 28 percent on Smart & Green in June. Smart & Green boasts a stunning and playful collection of impact-resistant portable LED lights and lamps. These shatterproof, weatherproof, waterproof portables follow you everywhere and recharge when not in use. Smart& Green cordless LED lamps come in a wide variety of shapes and sizes—from small cubes and medium egg-shaped lights to massive spheres—and are capable of displaying a rainbow of different colors. Use as decorative landscape lighting, path lighting, indoor or outdoor table and floor lamps, poolside or in-pool lighting (they float!), or lanterns. The sky's the limit. Remote controls allow for easy mood lighting at the touch of a button.
Browse Modern Fan Company ceiling fans—Cool by Design. Modern Fan Company offers a stunning array of mechanically streamlined ceiling fans in geometric forms and contemporary finishes. Modern Fans are both technically and artfully appealing, with distinctive aesthetics that don't sacrifice functionality. "Cool by Design," Modern Fan Company creates alternatives to the status quo.
Lightology also offers shoppers exclusive access to the brand new La Diva by Rotaliana. The first compact entertainment system of its kind, the LED light and music system is designed specifically for your iPod or iPhone. La Diva combines multiple functions to eliminate clutter and streamline your life. Even when the lamp is closed, it is an FM radio and speaker system for a connected computer, MP3 or CD player. La Diva is available only at Lightology.
Finally, Lightology is offering Flos' 50th Anniversary Limited Edition Kelvin LED table lamp in orange to customers on a first-come-first-serve basis. Created by celebrated Italian industrial designer Antonio Citterio, the sleek, fun, technically advanced Limited Edition Kelvin LED is only available in limited quantities.
About SLV Lighting
SLV Lighting is an innovative provider of residential and commercial lighting for interior and exterior use. Founded in 1979 and based in Übach-Palenberg, Germany, SLV is one of the fastest-growing and most successful lighting companies in Europe. The 32-year history of SLV Lighting simply began with the joy of playing with light, and the company quickly became a market leader in contemporary lighting designs, technical lighting and living area illumination.
About Smart & Green
Smart & Green's innovative LED products make the best possible use of this technology's potential: impact-resistant, smart light management, and low energy consumption. Designed to follow you everywhere, Smart & Green lights are cordless, portable and rechargeable. Use their clean lines and bright, colorful light to set the moods that you're looking for.
About Modern Fan Company
Modern Fan Company celebrates the modern idiom through mechanical finishes, geometric forms, and contemporary finishes for ceiling fans. In 1986, Ron Rezek was approached with the idea of updating the 100-year-old ceiling fan. An accomplished industrial designer with successes in areas from lighting and furniture to rescue equipment, Rezek recognized that he could introduce contemporary design to the ceiling fan market. The Stratos fan was born and forged the path for an evolution in ceiling fan design. The Modern Fan Company stands alone, bringing original and innovative design to the ceiling fan industry.
About Rotaliana
Rotaliana's lighting is the product of creativity and innovation. Each product combines the wealth of time-honored regional skills with a passion for all that is different. Rotaliana's research philosophy combines logic with emotion to provide solutions which are both useful and functional for our modern lifestyles. Through its capacity to intuit and reveal new solutions to our daily living, Rotaliana illuminates our lives.
About Flos
Founded in 1962, Flos lighting has become a classic of Italian industrial design, with some of the most iconic lamps in the design world. Flos maintains its leadership in innovative design and continues the legacy of Achille Castiglioni and Philippe Starck by partnering with new designers who bring fresh perspectives and extraordinary talent.
About Lightology
Visit Lightology.com to take advantage of May promotions and browse the finest online selection of modern lighting.
With over 27 years experience in the lighting industry, Lightology's web site and 20,000-square-foot contemporary showroom in Chicago offer you unmatched technical knowledge, accredited customer service, the highest quality and latest trends in contemporary lighting.
Along with the largest selection of contemporary lighting online, Lightology also offers:
Price Match Guarantee
Free Shipping on orders over $50
Hassle-Free Returns
Free Assistance from Certified Lighting Consultants
Over 400 manufacturers, many exclusively available at Lightology