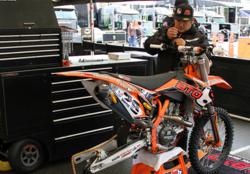 Not everyone goes pro in motocross. But that doesn't mean they can't have a job in the sport. This list of motorcycle schools was created to help those who might not want to race, but love to get into the gears and fix up a bike
Thousand Oaks, CA (PRWEB) June 04, 2013
BTO Sports, a leading online retailer in motocross gear, parts and accessories, has announced 30 top motorcycle repair schools. This list has been created to help riders find the perfect motorcycle school, allowing them to get a job and work in the field they love.
"Not everyone goes pro in motocross. But that doesn't mean they can't have a job in the sport. This list of motorcycle schools was created to help those who might not want to race, but love to get into the gears and fix up a bike," said a BTO Sports representative.
Here are 30 top motocross schools complied by BTO Sports, in no particular order.
30 Top Motorcycle Schools
Penn Foster
Penn Foster offers a Motorcycle Repair Technician Program that allows students to gain all of the knowledge and skills that are needed to successfully diagnose and repair motorcycles.
Wyotech
Along with the basics, students receive a hands-on education that allows them to go further, by taking specialization courses for different bike manufacturers.
Ohio Technical College DBA PowerSport Institute LC
PSI is both a motorcycle repair and PowerSport repair institute. This program of study offers an education on all of the major brands of motorcycles, allowing students to have hands-on experience in a classroom environment that mimics a real-life service garage.
Chattahoochee Technical College
Chattahoochee Technical College offers a Motorcycle Service Technology program that gives training on motorcycle repair, dirt bike and ATV repair.
Lincoln Technical Institute
At their Windsor, CT campus, LTI offers a Motorcycle Technology program that is taught by industry experts that allow students to learn in a hands-on environment.
Georgia Piedmont Technical College
Georgia Piedmont Technical College gives students the opportunity to earn their degree in Motorcycle Service Technology. Offered at their Clarkson campus, the daytime diploma program begins each summer semester.
View the Full List of Top Motorcycle Schools
As a leader of motocross gear and more, BTO Sports is proud to deliver this list of top motorcycle schools to those looking for the right education program. As a company who loves to ride, we look for those who have a strong education in motorcycles when hiring.
About BTO Sports
BTO Sports offers the widest selection of motocross parts and accessories on the web including motocross helmets, street bike parts, boots and more from all the top motocross brands. Whether you're a recreational dirt biker or a serious motocross racer, BTO Sports has the motocross gear you need.