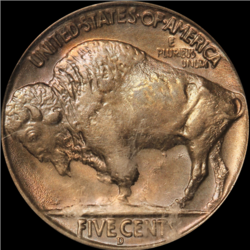 Our top priority is to provide a truly exceptional client experience. We realize that our clients are our greatest asset and we pledge to never lose sight of that.
Hopewell Junction, NY (PRWEB) June 05, 2013
The Happy Coin is excited to exhibit at The Whitman Coin Summer Expo in Baltimore that is happening from June 20 -23. Owner Chris Moran is available at Booths 305 and 306 to answer any questions you have about coins and coin collection. One of the coins that will be on sale in the expo is the 1937-D "3 Legged" Buffalo Nickel graded MS 65 by CAC & PCGS. This gem example has an exceptional strike, as well as colorful toning and exceptional surface quality. CAC has approved this coin for its overall quality and eye appeal. This variety was created when the foreleg of the buffalo was removed during die polishing, either by mistake or mischief. Whatever the true cause, the three legged buffalo nickel is among the most beloved and sought after coins in existence. Easy layaway terms are available to purchase this coin.
Another recent addition to their inventory is the 1911-D $2.5 Gold Indian Quarter Eagle CAC & PCGS MS 64. This CAC approved near gem features bright yellow, fully lustrous and original surfaces. With a mintage of only 55,600 coins this is the rarest of the Indian Quarter Eagles and, like "The 3 Legged" buffalo Nickel, one of the most sought after key date coins of the 20th Century. This coin will be featured at the World's Fair of Money organized by American Numismatic Association. The event is happening at the Donanld E. Stephens Convention Center in Chicago from Aug 13-17, 2013 and the Happy Coin will be in booth 937.
As a way to encourage younger generation to collect coins and answer questions, The Happy Coin will be at the Parsippany Coin show that occurs on the 1st Sunday of each month at the at The P.A.L. Building 33 Baldwin Road Parsippany, NJ 07054.
The Happy Coin is an authorized submission center for CAC. The vast majority of certified coins they offer are CAC approved. Owner Chris Moran states, "CAC approves only the better quality coins within the assigned grade…not only are they worth more, but they are highly liquid and enjoy a robust market."
Owner Chris Moran is a Life Member of the American Numismatic Association (#6316). Also, Chris is a member of The Professional Numismatists Guild (#A714). Click here to learn more about the benefits of doing business with a PNG Dealer.
As their inventory and offerings grow, and The Happy Coin becomes one of the leading dealers in US rare coins, owner Chris Moran and his staff strive to keep client service as their number one priority: "Our top priority is to provide a truly exceptional client experience. We realize that our clients are our greatest asset and we pledge to never lose sight of that. Although it sounds paradoxical, we know from experience that our best interests are served by placing our client's best interests first."
Customers and collectors can reach The Happy Coin through their toll free phone number at 800-544-3750, where the staff will be pleased to answer any questions or concerns regarding coins, grade and condition, value or any other numismatic concerns a client may have. Their website, http://www.thehappycoin.com, includes high resolution images and descriptions of hundreds of exquisite, sought after coins; so that collectors can shop from the comfort and convenience of their home any time they please. Shipping and insurance is always free.