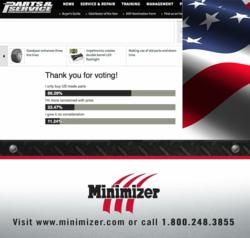 Blooming Prairie, MN (PRWEB) June 04, 2013
A recent survey by Truck Parts & Service showed over 60% of truck parts buyers only buy US made parts. An unimpressive 22% were more concerned with price and just 11% gave manufacturing origin no consideration. A recent article in TIME Magazine focused on how "Made in the USA" is making a comeback.
That means Made in the USA is important, perhaps more important than in the past. There is a clear trend towards buying Made in the USA as a result of a heightened awareness of the importance of manufacturing origin. It creates a clear opportunity for differentiation and it relates directly to buyers' decisions.
Minimizer products have always been Made in the USA. The Company's manufacturing campus located in Blooming Prairie, Minnesota, USA, employs over 50 people and thrives in a small town USA environment.
"In the past we haven't focused our marketing efforts on our strength of being Made in the USA but I think it's time we do," said Minimizer Company CEO and Chief Visionary Craig Kruckeberg. "Recently we've seen an influx of low quality competition enter the market. Most of it is manufactured offshore and is made from polypropylene; cheap plastic that won't withstand the rigors of our industry."
Minimizer products are Made in the USA by hard-working Americans that care about quality. The materials used by Minimizer are the highest-grade composites available: High Density Polyethylene (HDPE). HDPE is virtually indestructible and is formed using Minimizer's proprietary thermoform technology. This is why Minimizer can offer a written guarantee for life warranty.
"Our products are made from the toughest materials available and manufactured domestically right here in the USA; this combination allows us to guarantee our products for life," adds Steve Hansen, Minimizer National Accounts Manager. "We don't know of anyone else who is willing to stand behind their products like we do. Our value proposition is so much better than the competition: Made in the USA, with the best materials, and guaranteed for life. No one can beat that offering."
As buyer sophistication continues to increase, point of origin plays a more significant role in buying decisions. Made in the USA makes sense. It's good policy because it's good for all of us. Minimizer has always and will continue to deliver high-quality Made in the USA products that are guaranteed for life. It's good to buy from your neighbor, especially when you know they are strong and will stand behind their product.
Minimizer leverages over 27 years of manufacturing expertise at its state-of-the-art manufacturing facility in Blooming Prairie, Minnesota, USA. Minimizer delivers the industry's best fenders, bracket kits, floor mats and accessories that will enhance the performance of all makes and models of over the road trucks, construction vehicles, or agriculture equipment.
Enhance and protect your vehicle with Minimizer products. The toughness is unmatched as seen on this Minimizer promotional video entitled "Tested & Tortured". And check out the new Minimizer Proving Grounds video.
Minimizer poly fenders and related products are available through exclusive Minimizer distributors. For more information or to contact a dealer, call us at (800) 248-3855 or visit our website or email us at info(at)minimizer(dot)com.
About Minimizer
Headquartered in Blooming Prairie, Minn., Minimizer manufactures poly truck fenders, poly toolboxes, custom floor mats, customized mud flaps, bracket kits, and truck accessories. Family owned and operated for nearly three generations, Minimizer parent company Spray Control Systems, Inc., was founded in 1983. Minimizer aims to provide products tough enough to please tough people in a tough industry. For more information call (800) 248-3855 or visit http://www.minimizer.com/.