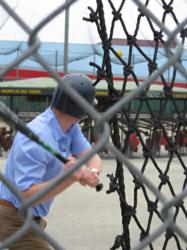 Scottsdale, AZ (PRWEB) June 04, 2013
June 16th is Father's Day, a time to reflect on the important role fathers play in our lives.
It is also the perfect opportunity for sports facilities to show appreciation for their customers with a Father's Day special.
According to a RetailMeNot survey, 40 percent of dads said they wanted "quality" time with their family on Father's Day. This makes sports facilities that offer batting cages, tennis courts, driving ranges and other amenities a premier destination.
"Sports facilities are the perfect place to take dad this Father's Day," said Bob La Loggia, CEO of Appointment-Plus sports scheduling software. "Celebrate the occasion by offering discounts for the whole family."
Effective marketing is important for a successful Father's Day promotion. Here are four tips to consider:
1. Post Father's Day discounts on the company Web site.
A company Web site is an ideal spot to promote Father's Day specials. It's especially effective in reaching prospective customers who are searching for Father's Day activities online.
Be sure to highlight the promotion prominently at the top of the homepage. Additionally, make it easy for customer to book online instead of calling. Online scheduling software lets individuals view availability and instantly reserve times.
2. Utilize social media pages.
Post details on the Father's Day special on your Facebook, Twitter, YouTube and other social media pages. Like a business Web site, sports facilities can generate sales from both current customers and new customers searching the Internet.
According to market research company Lab42, 77 percent of individuals who "Like" a business on Facebook have saved money as a result. Reward these individuals with exclusive discounts available only through your social media pages.
3. Inform the media.
Newspapers and magazines are always looking for holiday discounts to print. Reach out to appropriate writers and editors to share Father's Day discounts.
4. Send an email newsletter
An email newsletter is direct marketing to individuals who want to learn about your discounts. As with your social media fans, consider offering exclusive specials available only to newsletter subscribers.
Learn how Appointment-Plus tennis court reservation software can help grow your business. Schedule a free guided tour. Call 800-988-0061. Visit http://www.appointment-plus.com.
About Appointment-Plus: Appointment-Plus is the leading provider of online scheduling software for sports facilities. It offers customer self-scheduling, reminders notifications that reduce no-shows by 70 percent, and online customer payments options. The software integrates with Facebook and Twitter.