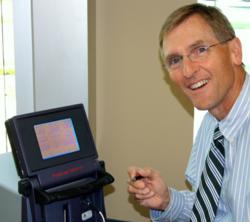 Richardson, TX (PRWEB) June 03, 2013
Dr. Kerry Goad now offers Richardson patients the effective combination of dental implants and the Laser Assisted New Attachment Procedure (LANAP) to repair damage, such as tooth loss, caused by periodontal disease. Before patients can receive a dental implant, they need to have good oral health and free their mouth of periodontal disease. Periodontal disease must be removed and bone density cannot be too low for successful dental implants. Unfortunately, traditional methods of gum disease treatment and surgery can sometimes result in complications, extended recovery times, and damage or even loss of healthy gum tissue and bone. LANAP is an appealing alternative for many patients because it is a quick procedure that only targets infected gum tissue. Furthermore, LANAP stimulates the bone, which has long-term benefits for patients.
Dental implants also stimulate the bone, which is one of their most important health benefits. When a tooth is lost and the bone is no longer stimulated, loss of bone density and resorption can occur. This can have cosmetic and health effects on patients, especially if several teeth have been lost. By offering patients implants before too much resorption has occurred, Dr. Goad helps them avoid significant complications in the future. The use of LANAP to prepare patients for implants offers even more positive effects, as the bone is stimulated and no additional bone is lost during the gum surgery.
Aside from the health benefits, implants offer patients many advantages over other forms of tooth replacement. Dental implants are more stable and have more of a natural appearance than dentures, and they provide a better long-term solution because they are the only tooth replacement that fights bone resorption. To learn more about tooth replacement options and find out if LANAP or implants can help you, visit Dr. Goad's website.
About the Practice
Goad Dental is a general practice offering patients personalized dental care in Richardson, TX. Dr. Kerry M. Goad received his Doctor of Dental Surgery (DDS) from Baylor College of Dentistry in Dallas, Texas. He completed advanced training in restorative dentistry at the L. D. Pankey Institute in Key Biscayne, Florida, and is part of one percent of dental professionals providing the most recent FDA cleared laser procedure for gum disease treatment. To learn more about Goad Dental and their dental services visit their website at http://www.dallasgumsurgery.com and call (972) 690-6653.