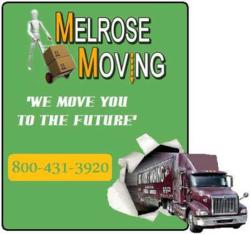 (PRWEB) June 05, 2013
Over 900 people have clicked like on Melrose Moving's Facebook Platform® page. Individuals who visit the Los Angeles business and residential moving company's page can see moving tips, articles with advice on how to move various belongings, and the latest company news.
Facebook members responded in droves, with over 417,000 people clicking like on the post, and over 20,000 more leaving a comment on the topic.
Facebook's mission is to give people the power to share and make the world more open and connected. Facebook users communicate and share information through the social graph, the network of connections and relationships between people. With more than 900 million active users, Facebook is the fourth-most trafficked website in the United States.
In 2007, the Facebook Platform was launched to empower developers and entrepreneurs around the world to make the Web more social for users. Millions of Facebook users return to the site each day, providing unparalleled distribution potential for applications and the opportunity to build a business that is highly relevant to people's lives.
Melrose Moving Company is a Los Angeles-based residential and commercial moving company. Originally established in 1999, and has been so popular that the owner started various other moving companies, such as 1 Los Angeles Movers, Movers Los Angeles, and Los Angeles Commercial Movers, all of which are operated by Melrose Moving. The moving company is licensed by the Public Utility Commission (PUC), and has an A rating with the Better Business Bureau (BBB). Melrose Moving accepts cash, checks, credit cards, and Paypal.
For more information, visit us.
Facebook® is a registered trademark of Facebook Inc.