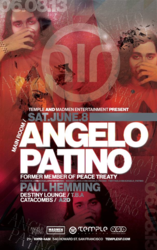 I can't wait to see what the future will bring and am very grateful and overwhelmed by the support of my peers and my fans.
San Francisco, CA (PRWEB) June 04, 2013
Temple Nightclub, the hottest event venue in San Francisco bringing the best electronic dance music around, welcomes former PeaceTreaty producer Angelo Patino to the decks on Saturday, June 8, 2013 from 10 pm to 2 am for MADMEN Entertainment's June Temple Takeover.
Patino's first appearance anywhere as a solo producer comes after the recent announcement of his debut solo EP, "Armory," which will be released soon on Juicy Music, but can be previewed now on SoundCloud.
"I am very excited to release my new EP. I am currently in talks with various labels on the official release. I really love the new tracks and can't wait to play them out live to my fans all over the globe. I want people to know that there is nothing negative about this transition," Patino said in response to his EP and his split from PeaceTreaty this year.
"I will always be humbled by the experiences I have had in PEACETREATY, and for the opportunity to share my passion for music with the world. I can't wait to see what the future will bring and am very grateful and overwhelmed by the support of my peers and my fans."
Temple's own Paul Hemming will close out the night with a special performance in honor of this exciting event.
Guests must be 21 and over. There is a cover charge that is discounted to $5 before 11 pm with an RSVP, which can be made at http://www.templesf.com/calendar.
Bottle specials include: Belvedere (1 Liter) for $300 all in and Don Julio (1 Liter) for $300 all in.
Download the Temple app and start earning reward points today. Get free entry, free drinks even bottle service. Now Available on iTunes and Google Play.
Celebrating a birthday? Get a free bottle of champagne with any bottle service purchase. *Birthday must be within one week of event. Email bailey(at)templesf(dot)com for reservations.
For Bottle Service, Birthdays, Bachelorette parties etc, please contact natalie(at)templesf(dot)com or call 415.978.9942 ext. 304
For more information about the event, visit http://www.facebook.com/templesf or call (415) 906-3791.
About the Zen Compound
The Zen Compound is an entertainment complex housing Temple Nightclub, Ki Sushi, TMG Recording Studios, Temple TV and ZCFM Radio, all with a sustainable focus.
Temple Nightclub is one of the most popular San Francisco dance clubs. The San Francisco event space is a true architectural gem. Filled with original unique antiquities from Southeast Asia, Temple offers 20,000 square feet of space, which can accommodate 1,100 guests on two levels. The nightclub includes four beautiful rooms, each with its own unique atmosphere.
For San Francisco event space rentals or corporate event inquiries, contact Dave Peterson at (415) 529-4307 x 309. For reservations and bottle service inquires contact Natalie Borges at (415) 978-9943 x 304.