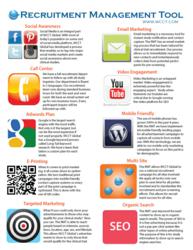 The RMT has been successfully used for numerous clinical trial recruitment campaigns.
Costa Mesa, California (PRWEB) June 04, 2013
WCCT Global, a contract research organization headquartered in Southern California announced today the successful enrollment of 300 subjects at one site for a phase I study. For this clinical trial, the recruitment had to be done extremely quickly due to the strict timelines given to screen and randomize the subjects. All subjects were recruited within a 3-week period due to the WCCT Global RMT or Recruitment Management Tool. WCCT Global's clinical trial recruitment process allows for an expedited recruitment period because WCCT Global is able to pinpoint exact population groups needed for a study with the use of social media and other online advertising avenues to reach out to only qualified subjects. The RMT has been successfully used for numerous clinical trial recruitment campaigns.
WCCT Global is set up perfectly to be able to run phase I clinical trials due to their two locations located in Southern California. One CPU unit has a 150 Bed unit with 3 separate confinement areas to run multiple studies at one time. This unit is ideal for long in-stay clinical trials. The second CPU is a 30 + bed unit that can run smaller specialized population studies. The WCCT Global clinical screening team is one of the best in the industry due to speed and accuracy; they can screen large volume of subjects. WCCT Global has an established system for being able to successfully screen and randomize subjects quickly and efficiently. This process works hand in hand with the recruitment and marketing department. The marketing department brings many leads to the recruitment team which phone screens possible subjects. Once a subject is qualified by phone, we bring them in for a physical screening.
WCCT Global is a multi-site, full service global contract research organization (CRO) of outsourced early drug development and late phase services to the pharmaceutical, biotechnology and medical device industries. The WCCT Global vision, "With compassion for people, we strive for tomorrow's therapies to be available today" truly exemplifies the focus and reason for our cutting-edgework both in our clinics and throughout our operations. As a drug development partner, WCCT Global collaborates with domestic and foreign innovator companies who need regulatory program management, data management and strategic consulting support, with an emphasis on overseeing and executing trials in special disease populations, pediatric populations, ethno-bridging, and cardiac safety. WCCT Global has extensive experience with healthy volunteer studies including First-in-Human (FIH), as well as specific therapeutic expertise in Allergy, Asthma, HCV, Ophthalmology, Oncology, Renal, and Vaccines.
If you would like to request information, CLICK HERE.