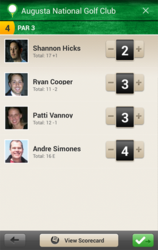 By engaging the golfer in a moment of elation, our solution builds lasting relationships and drives repeat business.
(PRWEB) June 04, 2013
Golf courses across the country faced severe drought conditions last summer, a dry winter, and now an inclement spring. The weird weather stalled the start of golf season and, according to industry tracker Golf Datatech, rounds played through the first four months are already down 15.4% compared to last year. Weather Trends International's 2013 forecast calls for more of the same, and fewer playable days are straining golf course budgets.
However, courses can find a reprieve in GolfStatus. Golf's mobile rewards network offers services designed to grow the game and enhance a course's ability to generate revenue.
GolfStatus's new rewards system is now open, via private beta, to select golf courses and businesses. GolfStatus Founder Ryan Cooper says his team is excited to provide a new way for businesses to reach the world's 60+ million golfers, most of whom are using smartphones.
"There are very few ways to meaningfully engage golfers," Cooper said. "GolfStatus solves this problem by capturing a golfer's moments of accomplishment, and by providing businesses and courses with the opportunity to deliver instantaneous rewards in those moments. By engaging the golfer in a moment of elation, our solution builds lasting relationships and drives repeat business."
Golfers earn and receive the rewards through the GolfStatus mobile applications. GolfStatus recently launched its first-ever Android app, now available on Google Play, and an updated iPhone app available in the App Store. Updated features include an enhanced process for connecting with friends, a hassle-free way to invite golfers to join a GolfStatus round from the tee box, and a new settings screen to help users manage their profile and social information. Both apps are free to download.
To apply to be part of the rewards private beta for courses and businesses, or for more information about GolfStatus's new features and mobile applications, contact Founder Ryan Cooper.
ABOUT GOLFSTATUS:
GolfStatus is golf's rewards network. Launched in 2012, the GolfStatus applications help businesses and courses engage with customers through achievement- and loyalty-based rewards. At the same time, the GolfStatus apps help golfers track, archive, and share their golf experiences and achievements, discover new courses, and keep tabs on their friends.
GolfStatus also offers golfers the easiest way to post scores for handicap purposes through the United States Golf Association's Golf Handicap and Information Network (GHIN). "Users tell us that it saves them time and effort because all they have to do is keep score," GolfStatus Founder Ryan Cooper said. GHIN is the world's largest handicap computation service, with more than 2.1 million golfers subscribing through 71 state, regional and national golf associations and more than 12,000 clubs.
GolfStatus is based in Lincoln, Neb.
ABOUT FOUNDER RYAN COOPER:
GolfStatus Founder Ryan Cooper caught the golf bug while earning a business degree from the University of Colorado. After working as a manager at two golf clubs, Cooper earned his law degree from the University of Nebraska College of Law.