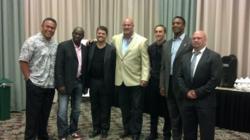 We want 2013 to be the year we really hit spreading awareness and helping the public with sleep disorders.
Bloomington, Minnesota (PRWEB) June 04, 2013
Pro Player Health Alliance (PPHA) has set out on a national campaign titled "Tackle Sleep Apnea" which is intended to raise awareness on sleep apnea in our nation. David Gergen, founder of PPHA and owner of Gergen's Orthodontic Lab, has teamed up with current/retired NFL greats such as Larry Fitzgerald, Roy Green, Mike Haynes and many others to speak with fans who suffer with the disorder at local events around the nation, but it doesn't stop there. Mr. Gergen stays busy by using his NFL player relationships, who have gone through him for treatment, to help others spread awareness of the newest programs dedicated to preventing the dangers lurking behind untreated sleep disorders from every angle.
A Mayo Clinic study shows over 60% of former NFL players suffer from sleep apnea. One of PPHA's main objectives is to get as many players treated as possible and improve their overall health. Tomorrow Pro Player Health Alliance will be teaming up with the NFL's HOPE Program Sponsored by Covidien with Chuck Foreman, one of the Vikings' all-time greats, at an event to get the community medical teams working together to support care for former NFL greats.
The HOPE program is an obesity management awareness program aimed at healthy lifestyles and weight management for retired professional football players. NFL players are more likely to have cardiovascular and other health problems than smaller sized men. Treating sleep apnea can be a huge factor in managing the weight of an individual particularly in reducing body weight from an unhealthy state by giving a way for more energy during the day. The goal of this partnership is to maintain overall good health among the players by treating their sleep apnea and ultimately positively impacting their weight.
About Pro Player Health Alliance
The Pro Players Health Alliance (PPHA) is an organization dedicated to helping former NFL players, through providing testing and treatment options for those who suffer from sleep apnea. In addition, the PPHA is dedicated to integrating education and raising sleep apnea awareness, in a fun and memorable way. In addition to the campaign, the PPHA is dedicated to testing and getting people treated who suffer from sleep apnea. The PPHA was created by David Gergen, President of Gergen's Orthodontic Lab and Former NFL legends. To follow the latest on Pro Player Health Alliance, visit http://www.facebook.com/proplayerhealthalliance
About David Gergen
David Gergen, CDT and President of Pro Player Health Alliance, has been a nationally respected dental lab technician for over 25 years. He received the award for "The Finest Orthodontic Technician in the Country" given by Columbus Dental in 1986. He also has been appointed chair of the dental wing of the American Sleep and Breathing Academy, a national interdisciplinary academy dedicated to sleep training and education with over 60,000 members. He has worked for some of the pioneers in the orthodontic and sleep dentistry fields. One of his proudest achievements is receiving The National Leadership award for Arizona Small Businessman of the Year in 2004.