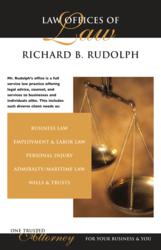 One Trusted Attorney For Your Business and You
Orange County, California (PRWEB) June 06, 2013
The Law Offices of Richard Rudolph obtained a Judgment of over $5,000,000.00. The Judgment for insurance bad faith is against a national insurance company, and in favor of the Orange County law firm's long-time client, a third generation, family owned business. The case resulted from the insurance company's failure to timely pay the insured under its policy.
The case of Palm Springs Pump, Inc. vs. Peerless Insurance Company, a Liberty Mutual Company, handled in conjunction with Shoop, APLC and the Liddy Law Firm, arose following the catastrophic failure of the client's industrial drill rig. According to the unanimous jury verdict, without proper cause, the insurance company unreasonably delayed payment of insurance benefits, thus prohibiting the repair of the drill rig in a timely manner. The insurer delayed providing its insured with a coverage opinion for over 5 months, and waited almost a year before paying out the full amount owed. This caused substantial financial harm to the firm's client.
On April 12, 2013, after trial, the Riverside County jury found the insurance company liable for bad faith claims handling and awarded the client over $1,500,000.00 in Economic Damages, plus $3,500,000.00 in Punitive Damages. [Riverside County Superior Court, Case No. INC 1109263]
Law Offices of Richard B. Rudolph
2082 Michelson Drive
Irvine, CA 92612
RRudolph(at)Rudolph-Law(dot)com
(949) 825-5210
One Trusted Attorney for Your Business and You!
Call Today for a Free Consulation!