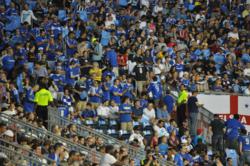 Northridge, CA (PRWEB) June 04, 2013
Contemporary Services Corporation (CSC), the world leader in crowd management and event security, announces its participation in Major League Soccer's (MLS) Supporter Steward Training program, a specialized training program for venue security personnel and supporter groups designed to facilitate the safe growth of soccer through relationships with the most dedicated MLS fans. This training includes Level One certification on Techniques for Effective Alcohol Management from T.E.A.M. Coalition, completion of the International Association of Venue Manager's (IAVM) Trained Crowd Manager program, and an intensive education about the culture of soccer and the specific soccer supporter groups at MLS venues.
MLS is the fastest growing spectator sport in the United States and now sits third behind the National Football League and Major League Baseball in average per-game attendance. The spectator experience at an MLS match is completely unlike that at any other professional sport. Soccer fans have organized supporter groups and can be seen in the stands singing, chanting, waving flags and banners, playing drums, and celebrating with confetti and streamers. The training program implemented by MLS is designed to give event security personnel special education in how soccer fans act and what is considered acceptable at a soccer match that might not be acceptable at other sporting events.
Developed by Dane Dodd, CSC's Vice President of Training, the Supporter Steward Training program uses the power of personal relationships to improve communication between various groups, promote the growth of soccer in North America and prevent match disruptions, incidents of spectator violence, and the negative public image that has characterized soccer and soccer supporter groups in many parts of the world. The program was first tested during the 2012 MLS All Star Game at PPL Park in Philadelphia and during the 2012 MLS Cup at the Home Depot Center in Long Beach. All 19 MLS clubs will participate in the program during this 2013 season, and many teams have already completed the training, including Seattle Sounders, DC United, Philadelphia Union, and Real Salt Lake.
About Contemporary Services Corporation
Contemporary Services Corporation (CSC) is the world leader in crowd management and event security for the entertainment and sporting event industries. Throughout its 46 years of experience, CSC has garnered a loyal and esteemed client base, including more than 100 stadiums and arenas, over 100 universities and colleges, more than 20 convention centers, and numerous clients within the professional ranks of MLB, MLS, NBA, NFL, NHL, and NASCAR. CSC has also provided services for the world's most prestigious special events, including Collegiate Bowl Games, NCAA Final Four Tournaments, PGA Tournaments, US Open Tennis, 30 Super Bowls, 8 Olympic Games, 4 Presidential Inaugurations, 2 Papal visits, and 2 FIFA World Cups. CSC operates more than 50 branch locations throughout the United States and Canada.