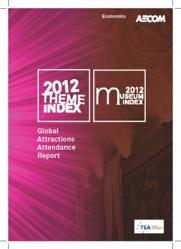 "Water park attendance totals in Asia have, for the first time, surpassed those of North America." -- John Robinett, AECOM
Los Angeles, Calif. USA (PRWEB) June 04, 2013
According to the annual TEA/AECOM Theme Index released today, attendance data for 2012 reveals increases nearly across the board at major theme parks/amusement parks, with strong performance in both North America and Asia. Attendance at the top 25 parks worldwide grew 5.2 percent, to 205,906,000 visits in 2012. Attendance at the top 20 water parks worldwide grew by 5.5 percent, to 25,100,000 visits in 2012 [water park figures updated June 5, 2013]. The top 20 museums worldwide received 98,486,000 visits. This year marks the debut of the Museum Index segment of the report, measuring the top attended museums in North America, Europe, Asia-Pacific, and globally.
The report is available free online at these locations:
-TEA's website at http://www.teaconnect.org/2013ThemeIndex, or http://www.teaconnect.org/sites/default/files/misc/files/2012_theme_index_05052013.pdf
-AECOM's website at Aecom.com/themeindex or http://www.aecom.com/What+We+Do/Economics/Theme+Index+Report.
John Robinett, Senior Vice President, Economics, at AECOM, says, "The major operators in Europe, Asia and North America all had a successful year – but Asia is the really dramatic news. We forecast in last year's Theme Index that the industry in Asia would begin to outpace the industry in North America, and the 2012 report contains the first clear sign of it: Our figures show that water park attendance totals in Asia have, for the first time, surpassed those of North America."
The TEA/AECOM Theme Index and Museum Index is a collaboration of the Themed Entertainment Association (TEA) and the economics practice at AECOM, a global provider of technical-professional and management-support services. This calendar-year study of global attractions attendance is a free resource for park operators, land developers and the travel industry. Top worldwide theme parks, amusement parks, water parks, museums and theme park group operators are named, and industry trends are identified.
The largest amusement/theme park market remained North America, with 131,555,000 visits to the continent's 20 largest parks in 2012, up by 3.6 percent from 2011. Asia's amusement/theme park market continues to grow rapidly, achieving 108,689,000 visits to its 20 largest parks in 2012, up 5.8 percent from 2011. Continuing to struggle with the effects of the Euro crisis, the top 20 amusement/theme parks in Europe saw attendance decline marginally to 57,954,000 visits in 2012, down 0.3 percent from 2011. Despite significant declines at a few of Latin America's amusement/theme parks, the top 10 amusement/theme and water parks in the market grew by 2.6 percent to 13,199,000 visits in 2012.
The top 20 water parks in North America grew by 2.2 percent to reach 15,386,000 visits in 2012. The top 15 water parks in Asia grew significantly faster at 7.4 percent, achieving 15,999,000 visits in 2012.
The top 20 museums in Europe had 71,536,000 visits in 2012, followed by the top 20 museums in North America with 55,816,000 visits, and the top 20 museums in Asia with 41,568,000 visits. In contrast to the amusement/theme parks and water parks, all of which charge an entry fee, the museums include those with both paid and free entry.
The complete TEA/AECOM Theme Index and Museum Index examines attendance trends by geographic region and park type, and includes rankings of top attractions. The full report is available free of charge on the TEA (http://www.TEAconnect.org) and AECOM (http://www.aecom.com/economics) websites as of June 4, 2013.
TEA president Christine Kerr of BaAM Productions says, "TEA is pleased to work with the economics practice at AECOM to deliver the annual TEA/AECOM Theme Index, and especially pleased to see that this year's numbers reflect growth and recovery. This free resource is invaluable to monitoring the health and progress of the visitor attractions industry."
Additional quotes – Americas, Asia-Pacific & Europe
Brian Sands, Vice President, Economics, Americas, AECOM
"Overall growth in the North America theme park market was substantial in 2012, with 131.6 million visits to the top 20 theme parks, equal to 4.6 million more visits or 3.6 percent higher than 2011. This is the second consecutive year of growth around three percent."
"Latin America's top theme/amusement and water parks saw 13.2 million visits in 2012, representing growth of 2.6 percent or 336,000 visits — a jump in comparison to 2011's very modest growth."
Chris Yoshii, Vice President, Economics, Asia-Pacific, AECOM
"Combined attendance at the Top 20 Asia theme parks increased by 5.8% overall in 2012 to a record 108.7 million visits. This solid growth was led by the post-tsunami recovery of Tokyo Disneyland and Tokyo DisneySea, as well as significant new attractions added to major parks."
Natalia Bakhlina, Associate Director, Economics, Europe, AECOM
"Overall attendance at theme parks in Europe has been relatively static for two consecutive years, hovering around 58 million visits to the top 20 parks. The industry has suffered from the enduring recession climate, worsened by cold and rainy weather in Northern European countries."
About TEA
The TEA (Themed Entertainment Association) is an international nonprofit alliance founded in 1991 and based in Burbank, Calif. TEA represents some 7,000 creative specialists, from architects to designers, technical specialists to master planners, scenic fabricators to artists, and builders to feasibility analysts working in more than 900 firms in 40 different countries. TEA presents the annual Thea Awards and the TEA Summit and hosts the annual SATE conference (Story, Architecture, Technology, Experience). TEA produces a variety of print and electronic publications, including the annual TEA/AECOM Theme Index, TEA Annual & Directory and Thea Awards Program. Visit TEA on the web at http://www.TEAconnect.org.
About AECOM
AECOM is a global provider of professional technical and management support services to a broad range of markets, including transportation, facilities, environmental, energy, water and government. With approximately 45,000 employees around the world, AECOM is a leader in all of the key markets that it serves. AECOM provides a blend of global reach, local knowledge, innovation and technical excellence in delivering solutions that create, enhance and sustain the world's built, natural, and social environments. A Fortune 500 company, AECOM serves clients in more than 140 countries and had revenue of $8.2 billion during the 12 months ended March 31, 2013. More information on AECOM and its services can be found at http://www.aecom.com.
For additional figures and analysis of global theme park attendance, previous editions are available in the TEA Publications Archive and on the TEA blog.