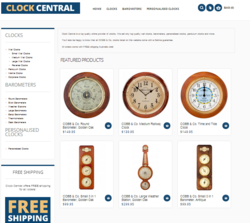 When you buy a COBB & Co. clock, you can be sure you are buying the best. That is why all COBB & Co. clocks come backed with a lifetime guarantee
Melbourne, Australia (PRWEB) June 06, 2013
The newly-revamped website, takes on a cleaner and more modern look with a lot more product pictures. The upgraded functionality improves site navigation immensely for customers by creating more ways to filter products which makes it easier and more efficient to search for products.
The decision to revamp the website was made to improve website usability and to enhance customer satisfaction. One of the main feature upgrades includes the use of a new framework that streamlines processes and result in better customer service. The colours used in the timber are also improved to make it easier for customers to see the colour of the clocks.
Wall clocks and barometers are manufactured using the conventional COBB & Co. principles that bring together a combination of tradition, art and modern manufacturing to create stunning timepieces. Solid plantation pine is a top quality medium weight timber used to house the clocks and barometers. Each grain of the wood can be visibly displayed in the finished product. This forms an authentic and natural feel which makes each COBB & Co. timepiece its own unique creation.
The finished pieces are encased in solid brass bezel, where it is selected for its distinctive shine and longevity. To keep its shine over time, timepieces are lacquered with a special protective coating that stops the oxidization process and prevents brass from tarnish. The use of high quality materials allows the manufacturer to fully stand behind their products with an unrivaled COBB & Co. lifetime guarantee.
"When we make a clock, we are not just making something you can use to tell the time. When we make a barometer or a thermometer, we are not making something you can use to tell pressure or temperature. There is so much more to it than that. When you buy a COBB & Co. clock, you can be sure you are buying the best. That is why all COBB & Co. clocks come backed with a lifetime guarantee," a company spokesperson explained.
Clock Central offers a variety of shipping methods, including free shipping Australia wide, expedited shipping, and international shipping to New Zealand.
The company also provides a personalisation service by way of customising the face of the clock with a message, logo or image. For more information on the range, images and availability please visit the website at http://www.clockcentral.com.au/.
About Clock Central
Clock Central has been an online provider of prestigious, reliable and high quality wall clocks, barometers, personalized clocks, pendulum clocks, mantle clocks and many other timepieces. The new Australian range wall clocks, railway clocks and barometers bearing the COBB & Co. brand are made in Australia using solid plantation pine and finished in solid steel bezel. For superior accuracy, all clocks are engineered by quartz mechanism which ensures the clocks will be accurate to within 10 seconds per year. For added assurance, all clocks are manufactured with a life-time warranty.
Clock Central
Phone: +613 9018 5149
Email: info(at)clockcentral(dot)com(dot)au
###