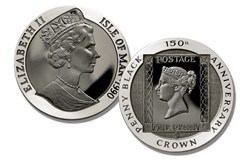 Minneapolis, MN (PRWEB) June 06, 2013
New York Mint®, a leading source and direct marketer of high-value collectible coins, has received designation as the exclusive U.S. distributor of first year issue of the 5-oz. Silver Penny Black coin from Pobjoy Mint. Pobjoy Mint struck this coin in celebration of the 150th anniversary of the first postage stamp. The Penny Black coins honored the 150th anniversary of one of the greatest landmarks in the history of communication, the world's very first postage stamp. The world's first adhesive stamp was introduced in Great Britain by a famous reformer, Rowland Hill. Named the "Penny Black" because it was a one-penny stamp originally printed in black ink and includes a simple but beautiful design of the young Queen Victoria. This commemorative Penny Black Proof coin is struck in 5 oz. of 99.99% fine silver.
Pobjoy Mint is Europe's largest, oldest, and most prestigious private mint renowned for the quality of the legal tender and special commemorative coins struck on behalf of national treasuries all around the world. For over 40 years, Pobjoy Mint has been crafting precious metals into works of art earning the Mint virtually every top international award for excellence and innovation –14 prestigious Coin of the Year awards total. The Penny Black design contributed to Pobjoy Mint's awards, and was a recipient of three different Coin of the Year awards for including the 'Coin of the Year,' 'The Best Crown' and 'The Most Innovative Design'. This Coin of the Year recipient includes Pobjoy Mint's secret formula - a "Pearl Black" finish created especially for Penny Black issues and is certified as Gem Proof by Numismatic Guaranty Corporation (NGC). This 5-oz. Silver Penny Black Proof coin has a "double-headed" design with Queen Elizabeth II appearing on the obverse and Queen Victoria on the reverse. The "Penny Black" coins were originally the only coins issued by the Isle of Man to feature British Monarchs on both sides.
For over 20 years, New York Mint has been working closely with Pobjoy Mint on many of their signature coin issues including Angels, Nobles and the Penny Black. Year after year, New York Mint has successfully offered New York Mint customers an opportunity to own high quality coin issues from this innovative award winning private Mint. As a result of this continued and ongoing success with Pobjoy Mint, New York Mint was granted U.S. exclusive on this first issue. "For over 20 years, New York Mint has provided its customers with access to some of the highest quality numismatic coins available in the world through its relationship with Pobjoy Mint. Much of this success was a result of our customers' interest and demand for the Penny Black coin, and we are honored to again align with Pobjoy Mint for the 150th anniversary commemorating the world's first adhesive stamp that forever changed history," said New York Mint President Bill Gale. The 5-oz. Silver Penny Black Proof coin is featured in a wooden presentation case with a Pobjoy Mint number certificate of authenticity.
About New York Mint®
Since 1984, New York Mint, LLC has been a private distributor of coin and currency issues and privately issued licensed collectibles. New York Mint provides collectors with one-stop access to some of the finest quality, rarest and most sought-after coins from worldwide government mints, shipwrecks, ancient hoards and exotic locales. The treasures secured by New York Mint span historic eras from ancient times, through the American Civil War, and up to the most contemporary milestones and events. New York Mint partners with the Smithsonian Institution®, government mints and monetary authorities, distributors and wholesale dealers worldwide. Recently, they were U.S. distributors for the London 2012 Olympic Games Coin Program. For additional information, visit http://www.NewYorkMint.com or call 800 642 9160.
Source: New York Mint
Contacts
Business Development: Sara Fehrenbacher (sfehrenbacher(at)amsi-corp(dot)com) + 1 952 707 7296