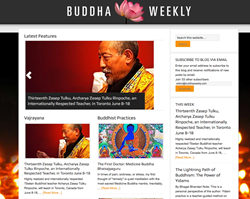 Rinpoche is the Thirteenth Zasep Tulku (incarnation), enthroned with great ceremony at the age of five, at Zuru Monastery in 1953.
Toronto, Ontario (PRWEB) June 04, 2013
This week Buddha Weekly focuses on Tibetan Buddhism, with a two part series on Reincarnation, and featuring a well-known incarnate teacher Acharya Zasep Tulku Rinpoche, who will teach in Toronto in June. The magazine also features a story on Yidam practice.
"Thirteen Zasep Tulku Comes to Toronto"
Highly realized and internationally respected Tibetan Buddhist teacher Acharya Zasep Tulku Rinpoche, will teach in Toronto, Canada from June 8-18, 2013. His busy itinerary includes lectures, initiations, consecrations and practice with students. The events will also be an opportunity for those interested in experiencing Tibetan Buddhism. Most events are held at Gaden Choling Mahayana Meditation Centre in Toronto, Canada.
Rinpoche is the Thirteenth Zasep Tulku (incarnation), enthroned with great ceremony at the age of five, at Zuru Monastery in 1953. Rinpoche took the eight precepts from Gelug lama Chonjor Gyaltso, at Tashi Lhapug, the largest monastery of the Geluk order. After many years of intensive study and meditation and practice, including work at the Chenrezig Institute for Wisdom Culture in Australia, Rinpoche accepted an invitation to come to Canada, where he has delivered many teachings, commentaries, initiations and meditation retreats. Read more (with videos)…
"Reincarnation, Part 1: Is There Evidence of Rebirth?"
To many experts there is some science to support the concept of Rebirth. Also described as Reincarnation, hundreds of millions of people in the world—Hindus, Buddhists, Taoists and many others—believe in reincarnation or rebirth. But is there proof that of reincarnation? Many noted psychiatrists and scientists claim that there is, some of which were widely published in Medical Journals. Read more…
"Rebirth Part 2: Is There Scientific Evidence of Rebirth?"
The ideas of reincarnation and rebirth have successfully captivated human beings over the ages. Although the terms "Reincarnation" and "Rebirth" are often used inter-changeably, there is a significant difference between the two concepts. Reincarnation is normally understood to be the assumption of another body by a permanent self or a "soul". According to this doctrine, after the biological death, the soul transmigrates into another body. Rebirth, on the other hand, is the idea that it is not a "permanent self" but a form of subtle mind-stream which conjoins with a new life after the death of its previous one. This mind-stream carries within itself karmic imprints from previous births. Also, rebirth doesn't necessarily have to be in human form, a human being can be reborn as any other sentient being, depending on the karmic cycle. Read more…
"The Lighting Path of Buddhism: The Power of Yidams"
Yidam practice is a teacher-guided method on vajra lightning path to enlightenment, Vajrayana. In this important path, meditating and honouring your own personal Yidam allows for fast comprehension of the nature of reality and the Dharma. The highly personalized and intense nature of the practice makes guidance of a realized Guru or teacher important. It is also a major commitment to a path that achieves goals quickly, but requires focus, imagination, wisdom and compassion. Read more…
About Buddha Weekly
Thousands visit Buddha Weekly every week for Buddhist features and news covering all major Buddhist traditions and practices. Started in 2009, the non-sectarian news magazine covers:

Buddhist Practices
Sangha News from all traditions including: Hinayana, Mahayana, Vajrayana
Dharma Features and Discussions
Kindness Practices
Mindfulness
Meditation
Buddhist News
Buddha Weekly is published by Zines Online.