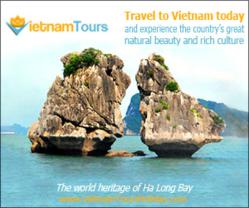 "If you haven't visited Ha Long Bay, you haven't been to Viet Nam."
Hanoi (PRWEB) June 22, 2013
VietnamAirlinesTickets.com, a leading booking agent of Vietnam Airlines is offering significant discounts on flights, visas, tours and hotels to Ha Long Bay, Vietnam.
Ha Long Bay is a must-see place for any tourists coming to Viet Nam to explore the timeless charms in this S-shaped country. The bay is one of those beautiful places that boast a wide array of natural sights and mythical attractions.
"In the brilliant light of the tropical sun, the sea surface, dark and light, here and there in the shadow of Limestone Mountains, is really an indescribable, fanciful scene. Sunset looks like a flaring fire, throwing all the islands into a fairyland." Said French Journalist John Rey
Ha Long Bay has a humid and tropical climate. It is possible to visit the bay year-round. In the fall, the weather is cool and ideal for holidays.
Foreign tourists can take flights (Vietnam Airlines is the main career) to Noi Bai International Airport, Hanoi then take tours to Ha Long Bay. It takes about 4 hours to go there.
To enjoy magnificent grottoes floating on the sea water, a cruise tour around the bay is the best choice. There are many beautiful and luxurious cruises in Ha Long Bay. Luxury Imperial Cruise, Victoria Star, Bhaya Cruise and Paradise Luxury Cruise are the most recommended. Tourists will have an unforgettable experience with fine dining and relaxation in luxurious cruises. On exploring the Bay, tourists will feel like living in the fairy world of magnificent grottoes such as Thien Cung Grotto (Heavenly Palace), Sung Sot Cave (Surprise Cave), Dinh Huong (Incense Burner), ect.
There are various interesting activities in the cruises. Fishing in Cua Van, Vong Vieng villages will absolutely an exciting experience. In the cruise itinerary, tourists will relax in white beaches and join some funny activities such as kayaking, diving… Delicious seafood and drink are well-served as well. Especially, a short cooking course right in the cruise is also presented for food lovers.
Once visiting Vietnam, it may be a great regret if you miss the opportunity to contemplate Ha Long Bay.
For more information for travel to Vietnam, visit http://www.vietnamairlinestickets.com.
About VietnamAirlinesTickets.com
VietnamAirlinesTickets.com is a leading booking agent in Vietnam. VietnamAirlinesTickets.com offers hundreds of daily flights to cities like Ha Noi, Ho Chi Minh, and Da Nang. VietnamAirlinesTickets.com has international flights out of Hanoi and Ho Chi Minh City to other countries around the world such as Laos, Cambodia, Thailand, Malaysia, Singapore, Indonesia, Europe and America.
VietnamAirlinesTickets.com prides itself on keeping its customers happy by offering them the lowest prices on tickets and their customer friendly attitude is open 24 hours a day, 7 days a week.
Contact:
email: booking(at)VietnamAirlinesTickets(dot)com
call: +84.127.668.7977