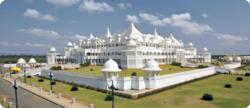 Awakened people see their thoughts flow through their minds like cars on a street.
Los Angeles, CA (PRWEB) June 08, 2013
Oneness University is pushing for a major medical study of the brain functions of individuals before and after undergoing the process of "awakening"—the process gives the individual freedom from the mind to live in the present, without traveling to thoughts of the past or the future. Awakened individuals report feeling a greater sense of love, happiness, contentment, and increased energy.
"Awakened people see their thoughts flow through them like cars on a street," Oneness Trainer Ruben Cross explains. "We don't suffer through excessive mental activity or mental conflict. This is the kind of brain activity that can be scientifically measured, so we're in the process of trying to discuss this medically."
Cross and others are hoping that the scientific studies will help others understand the growing movement. "We don't necessarily need science to make Oneness 'legitimate'. We already experience the differences every day." After awakening Ruben Cross, for example, is able to sleep for only four hours a night, half of the recommended amount for adults, and finds he has more energy than ever. "We do, however, hope that this study can help spread the word about what we experience daily."
Cross says, "Awakening is more like switching on a light inside yourself. You are able to see all the mental activity that you weren't able to see before. You are no longer the mind but your the witness watching the mind just like you watch your heart beat, you watch your mind work. You become more accepting of yourself and others, the mind doesn't interfere with your ability to live life. When your drinking water, your actually drinking water, your mind doesn't start to label if the water is good or bad, hot or cold, you just experience the water and that experience of drinking water causes joy, you have causeless joy by just the mere act of living life."
People that have been awakened or are curious about the awakening can meet others in conferences held around the world. There is always new events posted on http://www.Socaloneness.org