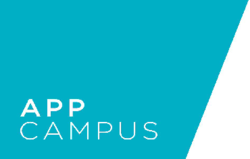 In today's app economy, mobile application developers are becoming savvy marketers and entrepreneurs. Programs like AppCampus offer developers the tools to foster and commercialize their new and innovative applications for the Windows Phone and Nokia Asha
Helsinki, Finland (PRWEB UK) 7 June 2013
AppCampus was set up to foster the creation of innovative mobile applications for the Windows Phone ecosystem to create a new generation of self-sustaining mobile startups. Attracting top developer talent has been the main goal of AppCampus' first year of operation. To that end, the team has globe-trotted from Finland to South America, US, Asia, South Africa, Russia and all across Europe, arranging local events as well as taking part in big gatherings like Tech Crunch Disrupt in San Francisco and Mobile World Congress in Barcelona. As a result, the first twelve months generated more than 2,500 award applications from 95 countries.
"The enthusiasm from developer communities around the world that AppCampus received has been overwhelming," comments Pekka Sivonen, head of AppCampus. "Though submissions are coming by hundreds monthly, we carefully sift through them to uncover the real gems and accept only them to the program. Quality of apps that come out of our program is the number one priority for us."
"Our joint objective with AppCampus is to spark innovation and creativity that is resulting in new app experiences for consumers and support promising entrepreneurs in the mobile industry. It is exciting to see the first results of this effort after one year," says Mika Okkola, Director Developer and Platform Evangelism at Microsoft Finland. "We are very pleased that AppCampus is making a real difference for thriving mobile app developers around the globe." "In today's app economy, mobile application developers are becoming savvy marketers and entrepreneurs. Programs like AppCampus offer developers the tools to foster and commercialize their new and innovative applications for the Windows Phone and Nokia Asha platforms," says Yannick Debaupte, Nokia's head of developer experience for Europe. "It's been exciting to personally experience the applications stemming from the first year of these efforts."
Out of over 160 applicants admitted to the program, the most promising teams are invited to participate in the AppCademy, a four-week intensive accelerator camp held in Espoo, Finland. The program has taken place twice with a third batch, that was kicked-off on May 20th, and has already proven to be a great success. "The feedback we got about the AppCademy surpassed our expectations: developers valued the advice and help they got through the camp even higher than the financial grant they received," comments Paolo Borella, Director of AppCampus. As one of the first graduates of AppCademy, Kimo Boissonnier from Haunted puts it: "Financial grant from AppCampus is what initially attracted us to apply for the program, but having gone through the four-week camp is what really enabled us to accelerate the launch of our app and get it to a high-quality standard."
With the program's concept proven and first year's achievements in place, AppCampus plans the second year of the program to focus on publishing more global apps. "Building and releasing quality apps takes time: the developer cycle is longer and concept refinement is time-consuming," says Sivonen. "We have released 14 apps so far and each one of them is at the top of its category in terms of quality. For the next twelve months the goal is to continue releasing and marketing the apps while keeping their quality at the best possible level."
On top of reaching out to developers directly, AppCampus team has been busy building partner networks around the globe to spread the program's message and attract top-notch talent. A recent partnership with Wayra, Telefonica's international accelerator with presence across South America and Central Europe, is one of the steps in that direction. "We're excited to build this type of start-up collaboration, where we get to reach developers and start-ups locally through our partners and really help them evolve. These collaborations can bring significant and sustainable new opportunities for mobile-focused entrepreneurs and their businesses," says Sivonen.
About AppCampus:
AppCampus is a global mobile application development program led by Aalto University, Finland. Funded by Microsoft Corp and Nokia, the AppCampus program has been set up to foster the creation of innovative mobile applications for the Windows Phone ecosystem to create a new generation of self-sustaining mobile startups. AppCampus is aiming to attract thousands of application proposals from students and entrepreneurs from all over the world. Within the AppCampus program, mobile entrepreneurs can benefit not just from award funding, but also comprehensive coaching, marketing support, training in mobile technology, design and usability to create innovative new mobile apps and services.