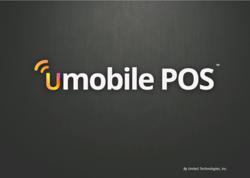 "Frankly, the numbers don't lie," says Das. "We're nailing it...The effects on conversion and sales have been immediate and dramatic."
Chicago, IL (PRWEB) June 04, 2013
UniteU Technologies is rolling out several new commerce solutions at Internet Retailer Conference & Expo 2013, including a first-ever look at uMobile POS™, a mobile point-of-sale system that allows retail sales associates to shop with and assist customers anywhere in-store or at events, then check them out quickly and securely on the fly.
UniteU, whose diverse and rapidly-growing customers include the NBA Finals-bound Miami Heat, In-N-Out Burger and Golf Galaxy, have developed the new products in response to real-world issues they were seeing within their customer base.
"The growth of smartphone penetration has been staggering, and has caused both challenges and opportunities for our retailer customers," says UniteU CEO Soumen Das. "First and foremost is the challenge of presenting a compelling and effective mobile storefront on 3G and 4G mobile devices. Next, it's solving the showrooming problem. And lastly, it's about getting your retail associates out from behind registers and onto the sales floor where they can better influence sales and transact business on the spot."
UMOBILE POS
UniteU's new mobile POS system, which employs an Apple iPad tablet and an Infinea Tab scan-and-swipe device, enables more fluid in-store interactions with customers, line-busting, digitally-assisted support for sales personnel, and provides portability for events such as tent sales, demo-days, festivals and sporting events.
uMobilePOS is backed by the UniteU Commerce™ platform, which is fully audited yearly to certify complete Payment Card Industry (PCI) compliance. The device itself is also fully PCI compliant, making the entire solution fully protected from end-to-end, and ensuring shopper data and the retailer's reputation are secure. The application leverages the catalog and transaction engines of the platform, which means fully synchronized inventory with existing systems of record, the ability to apply discount codes, and fast secure transactions.
The application is easy to use and requires little training. A scan and swipe device is attached to the tablet to read UPC codes for quick merchandise lookup. Associates can also search to add items to the cart, then swipe a credit card to complete the checkout process. Receipts are emailed directly to the shopper, or optionally printed, and are customizable allowing for retailer branding and messaging. The system includes back-end controls for employee roles and permissions, including the authority to conduct product returns using the device.
"By linking these mobile devices to our robust platform and transaction engine, we are empowering our customers to expand beyond the previous limits of their business," said Das. "They can get out from behind the register and offer a more natural buying experience that doesn't end with a rigid, frustrating checkout line."
The uMobile POS application is available for immediate download from the iTunes Store.
HYBRID RESPONSIVE DESIGN
Das says the company has been on a quest over the last two years to maximize shopper conversion rates on mobile. That evolution has led to a unique new "hybrid responsive" approach to responsive design that combines both adaptive and responsive design to optimize format, speed and response times.
"Frankly, the numbers don't lie," says Das. "We're nailing it."
The strategy involves both server-side and client-side technologies. At the server, UniteU adaptively recognizes the device that's making requests and delivers content specific to that category of device. For mobile, by only serving responsive elements that are applicable to 3G/4G devices, it reduces the amount of data transmitted and presents significantly less code for the mobile phone to process. This in turn increases speed and performance. Once mobile content is received by the device, client-side responsive technology is leveraged to dynamically adjust to screen size and orientation, optimizing the shopper experience.
As a case in point, UniteU customer Garnet and Black Traditions' mobile commerce site was already #2 on Internet Retailer's 2013 ranking of the fastest growing mobile commerce programs, just behind Fab.com. After implementing the full hybrid responsive design, the site saw yet another immediate 80 percent uplift in smartphone shopper conversion rates.
SHOWROOMING SOLVED
UniteU's new showrooming solution allows retailers to embrace smartphone usage in store by using Smart QR™ technology to create and print product-specific QR code signage that leads smartphone-armed shoppers to specialized mobile landing pages. These pages enhance the consumers' shopping experience with credible-but-controlled price-match comparisons and other interactive features such as product reviews, nearby inventory, and videos and other content that add value in-store and put retailers back in control of the shopping experience.
From this landing page, consumers can choose to compare current in-store pricing with fully-loaded (shipping included) prices across the Web. If the in-store price is at or lower than what is returned, a "buy it now" invitation is extended. If in-store price is higher, the consumer is offered an option to request a real-time price match. Backend systems then run the competitors price against rules set up in the promotion engine and present several possible responses to the consumer, including a full or partial price match, discount codes or other pricing strategies.
In addition, option personnel alerts can be set up to allow store personnel and management to be notified in real-time via text and/or email to the product pricing activity. This empowers them to also take any floor action available to progress the sale.
Das says he and his team are excited about the new offerings. "I'm extremely proud of the products we're presenting this year as they have been created out of the deep insights we've gained from working closely with our customers to develop, test and launch them. The effects on conversion and sales have been immediate and dramatic."
For more information visit http://www.uniteu.com.
About UniteU Technologies: UniteU creates commerce technology for a new generation of opportunity. It is the industry leader at removing the complexity, risk and costs associated with other enterprise e-commerce platforms so companies can focus on initiatives that drive growth across all digital, mobile and physical channels. UniteU offers a suite of enterprise e-commerce and in-store solutions including uMobile POS™ and UniteU Commerce™, an on-demand digital commerce platform that embodies more than a decade of multichannel insights and high-volume experience. Superior technology and performance have resulted in an impressive client list that includes Pharmaca, Edwin Watts Golf, The Miami Heat, In-N-Out Burger, Shoe Station and City Sports.