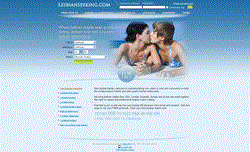 New lesbian dating site for single lesbians
New York City, New York (PRWEB) June 14, 2013
Women who know their unique beauty and personality, are flocking to the new online portal that brings women seeking women together in one place. Females who date other females enjoy the online portal that seeks to provide quality partners and connections.
Lesbian friends or even those who have been out of the loop for a time are finding the new dating website at lesbianseeking.com to be a helper in facilitating true love and companionship. Many lesbians believe that only another lesbian truly knows what a woman wants and that only those who have experienced falling in love with another woman will truly understand why a lesbian is a lesbian.
Among all the dating sites for lesbians, Lesbianseeking.com is bringing the best traits for women seeking women, to the table for ladies in the USA, Canada, Australia, and Europe to discover. The website is geared toward helping single lesbians find high quality, long-term relationships.
Lesbianseeking.com is shortcutting the search process by requiring profiles that contain character traits and interests that pertain specifically to women seeking women. The company is revered for serious and professional lesbian match-making.
The new lesbian dating site appeals to varying types of women who prefer to date women, including women who choose to date both men and women (bi-sexual). The website is free to sign up. Lesbianseeking.com has an easy search feature where visitors may search profiles as soon as they create a profile there, by entering specific age range and whether a preference is for a bi-sexual woman or an all out committed lesbian. It is also possible for users to select no preference. The lesbian blogs, lesbian dating ideas, lesbian forum, lesbian dating tips and daily lesbian news are available for all guests without signing up first. In order to search members, users need to create a profile. To help all members find the right match, the site allows members to send winks and comment on others' profile freely, but to send emails to prospective partners, users should upgrade to gold membership which is $29.90/month.
For women who want to fall in love with women, the web portal has answers to the many questions that may come up. Navigation at the website is easy to understand and the frequently asked questions section provides visitors with specific information regarding all features of the website and any costs pertaining to using the supportive dating site.
Learn more by visiting http://Lesbianseeking.com