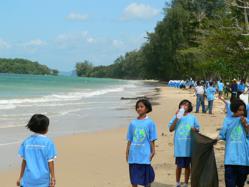 The Krabi PAO is offering people practical solutions to reduce their "foodprint".
(PRWEB) June 05, 2013
June 5th 2013 is World Environment Day and in Krabi, Thailand, which depends so heavily on natural resources for its income – both from tourism and agriculture – the local council is organizing a series of activities to publicize this year's theme of food waste.
The slogan "Think Eat Save" has been coined by the organizers of World Environment Day, the United Nations Environmental Program (UNEP), to highlight the environmental impact of our everyday food choices, not only through the amount, but the type of food we eat.
According to the UN Food and Agriculture Organization (FAO), every year 1.3 billion tons of food is wasted worldwide, while 1 in every 7 people go to bed hungry and more than 20,000 children under 5 die every day from hunger. Meanwhile food production has a huge impact on the world's resources, being responsible for 70% of global fresh water consumption, 80% of deforestation, and 30% of greenhouse gas emissions.
In support of World Environment Day, Krabi Provincial Administrative Organisation (PAO), with the aid of various governmental agencies and environmental NGOs, will be holding events in local schools to raise awareness about these issues, and to give local people practical solutions to reduce their "foodprint".
There will be singing contests, including a competition for original compositions about the "Think Eat Save" campaign, as well as essay-writing and drawing contests to encourage the younger generation to take on board the message and to take the ideas generated during the day home with them.
Krabi Riviera Co., Ltd, Krabi's leading private pool villa rental company, actively seeks to use foods that have a minimal environmental impact, such as organically grown vegetables that do not use chemicals in the production process. Food for the villa guests is also sourced from local markets wherever possible, which not only supports local farmers, but also means that produce is not flown across the world, creating unnecessary carbon emissions.
As part of World Environment Day 2013, Krabi PAO is also running a campaign to get people on their bikes. Cycling is a fast-growing sport in Thailand, and recreational cycling is being touted as an easy way to get and stay fit, as well as help the environment by reducing car journeys. A two-day cycling event was held on June 2nd, 2013 with its route going through endangered mangrove forests and along coastal paths, before ending with a parade through the centre of Krabi Town.