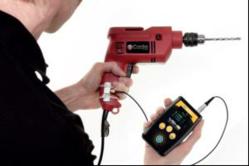 Employers need to understand that a digital monitoring system not only improves workers welfare but also returns a cost saving greater than the installation's investment.
Bolton, UK (PRWEB UK) 10 June 2013
Hand-Arm Vibration Syndrome is an industrial disease which mainly affects those workers using hand-held vibrating tools such as drills, chain-saws, disc cutters and more. The condition is also known as Vibration White Finger (VWF) or dead finger. Unfortunately, damages caused by HAVS are permanent; which is why workers continuously exposed to vibrations in the range of 5-2000 Hz must be aware of the high risk.
HSE regulations order that employers must protect the staff from vibration exposure due to vibratory equipment; and that actions be taken in order to lower HAVS exposure through appropriate and continual digital monitoring. A recent analysis, published by Reactec, highlights the major oversight in the tender processes for projects and services involving power tools (1).
Digital monitoring produces more accurate data, which eventually lead to better decisions to help reduce vibration exposure. Real-time auditing allows workers to know exactly where they are in relation to their allowable exposure whilst providing assurance that they are not damaging their health while working. It has been proved that a paper based monitoring system often produces misleading data due to staff not completing logs correctly, while employers who have a digital monitoring system in place can rely on highly accurate data which is easily collectable and readable (2).
Speaking to Adriano D'Ambrosio at Asons Solicitors, he advises that:
"Employees have to make sure that the equipment they normally use has been properly checked in order to reduce vibrations caused by general wear. It is important to take breaks in between tasks and encourage blood circulation by wearing appropriate protective equipment and clothing. Employers need to understand that a digital monitoring system not only improves workers welfare but also returns a cost saving greater than the installation's investment."
Asons also advise that smokers may have to cope with an even higher risk, as smoking causes blood vessels to constrict and the blood flow to reduce: therefore smoking cessation is highly recommended. Other drugs that inhibit blood flow should also be avoided.
Unfortunately there is no cure for the damages caused by Hand-Arm Vibration Syndrome, which is why employer's negligence should not be tolerated. Workers who have been diagnosed with this condition do not have to hesitate seeking legal advice. Support from an Industrial Disease specialist is essential in order to prove any employers' negligence and help with vibration white finger claims.
To find out more on how to make a claim for Vibration White Finger Claim Compensation, visit Asons Solicitors at http://www.asons.co.uk, or they can be contacted directly on: 01204 521 133
(1) "Is public procurement ignoring HAVS risk?" (07/05/2013) reactec.com/reactec/blog/entry/is-public-procurement-ignoring-havs-risk
(2) "How can continuous digital HAVS monitoring support H.S.E. compliance?" (20/09/2012) reactec.com/reactec/blog/entry/how-can-continuous-digital-havs-monitoring-support-h-s-e-compliance

About Asons Solicitors:
Asons Solicitors is a Bolton-based law practice that specialises in personal injury and industrial disease claims. Founded by brothers Imran Akram and Kamran Akram, Asons Solicitors has developed to become a young and dynamic law firm that delivers practical solutions to clients in times of difficulty. Their continued focus on their staff has seen them awarded with the Investors in People "Gold Award"; which is reflected in the professional and personable approach they take in working with clients. They strive to grow and to develop, and their supportiveness and attention to detail ensures that their clients use them time and again.
For further information contact:
Email: info(at)asons(dot)co(dot)uk
Website: http://www.asons.co.uk