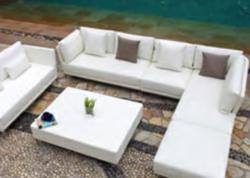 (PRWEB UK) 7 June 2013
New research carried out by Akula – the premium commercial outdoor furniture designer and manufacturer - has shown that what many people remember most about their summer holiday revolves around the time they spend outdoors.
Not surprising perhaps, when we consider how uninspiring the weather has been, for the last few summers, people take every opportunity to maximise their time outside when in warmer climates.
Those who spend their days in the sitting in offices and working long hours are, it seems, keen to spend as much time as they can outside when they are lucky enough to get away for the summer.
Time spent by the pool, watching their children play, eating outdoors and just being together all provide those treasured holiday memories. But it seems that the outdoor memories tend to stay with people the longest.
The majority of comments, from those surveyed, regard the time spent outside as the most memorable.
The things that people commented on the most consistently in the research were:

Sitting by the pool – relaxing and reading
Eating their evening meals outside
Relaxing on a beach
Walking and exploring new places
Outdoor activities such as swimming, riding, surfing
There was a definite skew in the survey towards an older, more family based audience which will certainly have influenced the results, and which did not feature the stag and hen night clubbing scene heavily. Nevertheless the results are very interesting.
It appears that people concentrate on the outside atmosphere far more than on the inside of their apartments and hotel rooms. They may accept a fairly average room if the outside area is conducive to comfort and relaxation.
Because Akula manufactures a range of outdoor furniture, they have created a short four point plan for hotels, bars, and restaurants to help ensure that their customers' memories are positive and long lasting.
The first point on the plan is the handshake test which avoids people feeling crowded and awkward. For every business, space is always at a premium, particularly in hotels and restaurants which need to maximise the room for each individual as well as getting the best return on investment.
On average, people's intimate personal space is around 45cm (about 18 inches), with "friendly space" being around 1.2m (472 inches). So, for maximum comfort, there should only be "friends" within 1.2m.
For most people much closer than this and they feel crowded and uncomfortable.
So, a good test is to make sure that each grouping is at least more than one handshake apart. A simple check is to sit on one of the chairs and arrange the seating so that you cannot easily shake hands with people at an adjacent table.
If you can shake hands then for most people the groupings are too close together.
More information, and other actions that can be taken to maximise outdoor living areas can be found on the Akula website – http://www.akulaliving.com
The research has been carried out through social media and directly with consumers over the last 4 months, to find out more email marketing(at)akulaliving(dot)com.