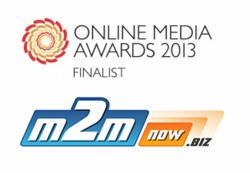 The standard and variety of entries has been extremely high this year and this has ensured a high calibre shortlist.
London (PRWEB) June 06, 2013
M2M Now.biz has been named today as a finalist in the 2013 Online Media Awards. The list of nominations includes some of the biggest names in journalism, including New York Times, Channel 4, Sky, USA Today, CNN, MSN, The Guardian, Times, BBC, al–Jazeera and Huffington Post.
While the shortlist features global names, the awards also recognise regional and specialist sites such as M2M Now.biz, Belfast Telegraph, Herald & Times Glasgow, the Lincolnite, Pink News, Grazia, Heat and Company Magazine, all of which are also competing for this year's awards.
The Times and Sky News lead the way with 10 nominations each, while Channel 4 News/ITN has eight and al-Jazeera five, with BBC News, Financial Times, Metro, Huffington Post and Reuters close behind.
Entries were judged by a 21-strong international panel including Noel Young, owner of ReportBoston.com; Bill Hagerty, Chairman of British Journalism Review; Nick Wrenn, VP, CNN International Digital Services; Tim Rowell, previously digital publisher at the Telegraph Media Group; Eamonn Byrne, previously the director of the World Association of Newspapers; Chris Boffey, former news editor at the Sunday and Daily Mirror, The Sunday Telegraph and The Observer; and David Mill, former Online Editor of the Daily Record and Sunday Mail, to name a few.
The awards, now in their third year, are organised by The Drum, sponsored by iomart Group, IE School of Communications and supported by NUJ, Society of Editors and the British Journalism Review.
According to the organisers these awards identify the cleverest, boldest and most original purveyors of news and views from around the world and reward the best in online news and journalism.
Gordon Young, publisher of The Drum and organiser of the awards, said: "This year's fantastic list of nominations truly reflects the rapid development and investment in the online side of the publishing business. They provide strong evidence that publishers are understanding the online dynamic and pushing the boundaries into new and exciting territories. The standard and variety of entries has been extremely high this year and this has ensured a high calibre shortlist. Our judges really have had their work cut out in terms of deciding who will pick up the prestigious awards in June."
The winners will be announced at a ceremony on Wednesday, 12 June at the Emirates Stadium, London. The nominations can be found online at http://www.onlinemediaawards.net and the categories include:
Best Business / Finance News Site
Agrimoney.com
Construction Enquirer
Progressive Customer publishing for economia
WKM Ltd for M2M Now.biz
About M2M Now:
Machine-to-machine communications offer a bright but challenging future
At face value, machine-to-machine (M2M) communications are simply devices sharing data in a wired or wireless network. For over 20 years, they have been mainly one-to-one connections, recording events at remote locations such as changes in stock levels or temperature. That was then, this is now.
Today, many communications service providers (CSPs) are excited by the possibilities of huge growth in traffic serving every business and social sector, from telematics that monitor vehicle performance and update in-car software, to smart meters advising providers of the utilities consumed, to controlling secure site access, to healthcare providers checking remote devices such as dialysis machines or even pacemakers.
M2M networks already support a wide range of applications (47.7 million wireless connections worldwide in 2008, according to Berg Insight, and expected to reach 187 million by 2014). These applications are growing to include: critical health provision, transaction reporting (car parks, train tickets, toll roads, vending machines), and low value, low frequency service updates (such as industrial monitoring). M2M can present widely differing challenges in business models, technologies, implementation and support.
In the first global magazine of its kind, M2M Now explores the evolving opportunities and challenges facing CSPs, and we pass on some lessons learned from those who have taken the first steps in next gen M2M services.

How should you plan networks for new and unproven services?
How can telcos provision the SIMS, and number the vast quantity of devices involved?
How do you price and charge for such varied services?
Where should intelligence reside, in the device, the network or the cloud?
How do you guarantee the quality of service levels needed for life and death data?
Which operators are most active in new M2M services, and what has it taught them?
M2M Now covers all industries using machine-to-machine communications (fixed line & wireless)
for business-to-business users and consumers' connected devices. These industries include: automotive, education, energy & water utilities, fleet management & telematics, healthcare, manufacturing, retail & vending, security & access control, telecoms, smart cities, and transport & logistics. It also features Board-Level Interviews (in print and video) with executives from Network Operators, M2M Service Providers & Aggregators, Technology Enablers & Vendors, and Corporate End Users.
Meanwhile, you can follow our progress on twitter: jcm2m and m2mnow