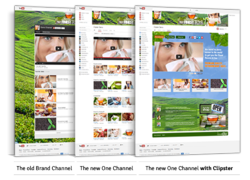 Clipster makes brand channels on the new YouTube One Channel affordable for every brand or company.
San Francisco, California (PRWEB) June 05, 2013
As one of the few Authorized Google Engagement Solutions Developers, Clipster is able to offer pre-approved solutions for the new YouTube One Channel design. Clipster has successfully risen to help agencies and brands engage with their customers through video content and have a consistent YouTube presence. In addition to providing a cost efficient model, their online application cohesively keeps the integrity of the brand design, develops creative content and publishes seamlessly in every language and culture.
States CEO Loek Wermenbol, "our company's solution will automatically adapt the layout of a brand channel to the format of the device, allows you to create a brand channel reflecting the brand's design and provide components such as social channels and teasers to engage with the audience. Now brands will have a permanent presence for all their campaigns, product information, promotions, product launches, brand entertainment and the ability to change content and design 24/7."
Never before has such flexibility been so affordable and has it been so easy to develop your YouTube brand channel. In addition, Clipster offers very attractive pricing schedules for every budget.
About Clipster
Clipster, a developer of Social Video Engagement solutions, has headquarters in the Netherlands and will be opening offices in San Francisco this year. Management's years of experience in advertising and the Internet has resulted in their membership in the Google Engagement Solutions Developer program.

High resolution visuals can be found on the press page.