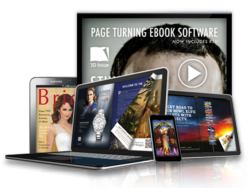 With this new release, 3D Issue Version 6.1, we wanted to give users a real 'try before you buy'
(PRWEB) June 11, 2013
3D Issue (http://www.3dissue.com) launched a unique innovation to this release of their downloadable digital magazine software. Unlike any other solution on the market, users will have 30 days access to a fully functional version of their PDF to digital magazine conversion software without any limits or restrictions.
"With most software trials, there are constant limitations to what you can do during a trial period. Many solutions will watermark publications or limit the number of pages that can be included in a digital edition. When using a SaaS service, you might be able to create a magazine without watermarks but it must be hosted on their site. With this new release, 3D Issue Version 6.1, we wanted to give users a real 'try before you buy' experience by providing them with the full version of our software, no limitations, no restrictions of features or where they can publish to. Its the complete full version," says Paul Mc Nulty, Managing Director of 3D Issue.
"During your 30 day trial of 3D Issue, you will now be able to create full digital publications that can be hosted on your site or pushed and downloaded to any tablet or mobile device. Your readers will be able to enjoy the full experience of your digital publishing strategy while you track their level of engagement and measure the efficiency of your content."
New additions to this release also include :
1. 2x increase in loading speed
2. Skinless window to allow maximum display for your digital editions
3. User log-in management
4. Enhanced pre-zoom vector text display
5. Enhanced audio functionality to create background music or even audio books.
3D Issue are thought leaders in their field, this releases follows on the back a recently released B2B news aggregation tool for publishers. PressJack allows content owners to aggregate their content into a responsive digital magazine that automatically reshapes it content around the device of that your reader chooses to consume your content on. A fantastic tool for your tablet and mobile strategy. With one click you can convert your content instantly to a format that displays beautifully on any desktop, tablet or mobile device.
About 3D Issue: 3D Issue is a leading developer of digital publishing software solutions for the print publishing industry. The company was started in 2006. The founders identified a need to reduce marketing and administration costs incurred while promoting their print products and managing subscribers. With more than 6000 customers globally, their solutions continue to address on-going requirements in this area, catering for publishing on all the newer platforms such as smartphones, tablets and e-book readers, enabling readers to enjoy the content both online and off-line. Clients include some of the smartest market leading publishers in the market today such as Mensa, Nasa, Google, Microsoft and Harvard.
Download a trial of 3D Issue today here and enjoy a free 30 day use of this ground breaking software. For further information on 3D Issue and their range of digital publishing products, visit http://www.3dissue.com or contact info(at)3dissue(dot)com.