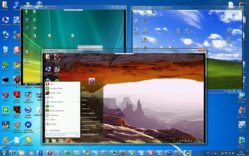 LiteManager v.4.4.3 is a program for remote access to computers over the Internet.
San Francisco, California (PRWEB) June 06, 2013
Read more: LiteManager - remote access software.
LiteManager is a program for remote control of computers over the Internet or in a local network.
The program is available in two versions: a full version (Pro) and a lite version. Among main features of the program: remote desktop control, file management, process and service management, telnet, registry management, chat, inventory, power management and many other useful functions.
The new version offers Connect by ID feature that allows you to connect to a remote computer by a specified ID instead of using its IP address. This mode allows to bypassing NAT and other firewalls when establishing connection. You can also configure your own server of ID connections for corporate purposes.
The lite version includes main features of LiteManager and allows to control up to 30 computers. LiteManager Free is available for both home users and businesses.
You can download LiteManager v.4.4.3 here. (Shareware/Freeware, Windows All).