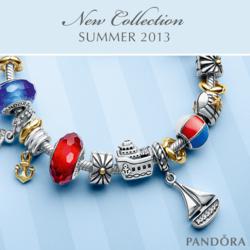 The new range embraces its summer theme... [by] honouring all those unforgettable moments by the sea.
(PRWEB UK) 5 June 2013
The latest collection from Pandora has been launched online at The Jewel Hut, showcasing the popular brand's latest series of charms and jewellery to its loyal fanbase.
Online jewellery retailer The Jewel Hut debuted the Summer 2013 collection on 03 May, bringing more than 30 new pieces to an expectant UK audience.
The new range fully embraces its summer theme, many of the additions taking inspiration from the ocean and the seaside to provide collectors a way of honouring all those unforgettable moments by the sea.
New Pandora charms include playful takes on familiar sea creatures, including a silver angel fish with treated topaz eyes (791108TPP) and a smiling crab holding a 14ct gold pearl (791135). The beachside fun continues with featured charms such as a sailing boat, beach ball and seashell charm.
The collection also includes faceted Murano glass pieces, including nautical teal and turquoise beads, and new versions of the brand's two-tone pavé beads, previously made popular as part of the Pandora Autumn/Winter 2012 series.
As well as charms that specifically reference holidays by the sea - providing that perfect memento of a family beach trip – other charms are also available, including but not limited to: Star of David charm (791167CZ), Pandora logo charm (791169) and, available for the first time without a bracelet, the pink present bead (791132EN24).
For those collectors who own a full bracelet, a series of coloured enamel rings and new pairs of earrings further assert the brand's celebrated eclecticism and choice. A new bangle (590713) rounds out the collection, offering fans of Pandora charms a stylish new alternative to charm bracelets.
With more summertime treasures expected from Pandora jewellery in the coming months, the new Summer 2013 collection is the perfect opportunity for newcomers and fans alike to make a new start with Pandora. The full collection, as well as much of Pandora's extensive back catalogue, is available to browse and purchase now at The Jewel Hut, your fashion and lifestyle choice.
For more information, visit the Jewel Hut at http://www.thejewelhut.co.uk.
– ENDS –
For press enquiries, please contact Luke McNaney on 01384 467592 or, alternatively, e-mail press(at)thejewelhut(dot)co(dot)uk.
Notes to Editors
1. The most recent Pandora Spring/Summer 2013 collection can be viewed in full here: http://www.thejewelhut.co.uk/pandora/pandora-new-in-spring-summer.htm. The Jewel Hut's comprehensive Pandora collection, including bracelets and new-in composable earrings, is viewable online here: http://www.thejewelhut.co.uk/pandora.htm
2. To keep up-to-date with The Jewel Hut's latest product launches, special offers and competitions, get connected via our social channels. Visit us on Facebook at http://www.facebook.com/thejewelhut or follow us on Twitter at http://www.twitter.com/thejewelhut.
About the Jewel Hut
The Jewel Hut is a dedicated online jewellery store, offering fashion fans the best in branded jewellery at competitive prices. Since its launch in 2006, the fashion & lifestyle choice has grown into one of the UK's leading online jewellery retailers, offering customers a wide choice of bestselling, world-famous brands and exciting collections from emerging independent designers.
The Jewel Hut is an authorised stockist for all brands sold on the website, including many of the jewellery industry's leaders like Pandora, Links of London, Thomas Sabo, Swarovski and many more. As well as offering more than 50 great brands, our 125 years of experience in the jewellery industry allows us to provide the best possible customer experience. Free delivery, 0% finance, payment via Amazon/PayPal and official brand packaging are just a few popular options offered to customers at The Jewel Hut.