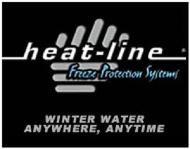 It's also a good time to inspect the power supply cables to the lake. If you are uncertain, call your electrical contractor or the ESA for assistance.
Carnarvon, Ontario (PRWEB) June 11, 2013
Lorne Heise, CEO of Heat-Line (http://www.heatline.com), a Canadian company that develops and manufactures advanced freeze protection solutions for water pipes and water systems, announces the development of the company's latest innovation: the Milliamp (MA-10). This device is a remarkable new product that addresses what Heise believes to be a serious and all too common safety hazard with many submersible pump systems.
Developed in response to growing homeowner liability and electrical hazard issues, the Milliamp (MA-10) is a CSA/ CUS, certified 10 milliamp, GFCI/ ELCI that is dual voltage. A universal device that can be installed with any pump system (retro-fit or new installation); the Milliamp (MA-10) is a stand-alone unit that is contained in a small hinged Nema-1 electrical enclosure. Perfectly suited to submersible pump installations, the Milliamp (MA-10) can also be used to protect other equipment, including but not limited to, sewage pumps, water pumps, well pumps, bubblers, water turbines and heat tracing systems. The Milliamp (MA-10) can be ordered from Heat-Line directly, and couriered to the customer's door. Heat-Line recommends contacting the local Electrical Safety Authority first, to be sure that local requirements are met.
Submersible/ deep well water pumps have become increasingly popular as an alternative to suction/ jet pumps. Submersible pumps have many advantages over less effective jet pumps. They are dependable, quiet, do not require purging and more importantly are able to deliver water over much greater distances and higher elevations.
Submersible pumps are typically installed in specialized pump stands and directly supplied with electrical power to their underwater location. In order to classify these submerged electrical devices as operationally safe and serviceable, a ground fault circuit interrupter (GFCI) or an equipment leakage circuit interrupter (ELCI) is required by the National Electrical Code (NEC) and must be installed by a licensed Electrician. Without a proper ground fault device or electrical leakage device, a pump system can be a serious electrical hazard and legal liability.
Heise recommends that anyone with a water pump system should check to make sure it meets the requirements of the Canadian Electrical Code for safety. "Many of these installations are retro-fits and may have never been inspected by the electrical safety authority (ESA) to ensure appropriate electrical protection. Submersible pumps have been installed as early as the mid 1980's, so there could be thousands of these unprotected and uninspected operating in our lakes. We suggest that every cottager check their pump system to ensure they have a certified and inspected GFCI or ELCI that meets the NEC requirements. It's also a good time to inspect the power supply cables to the lake. If you are uncertain, call your electrical contractor or the ESA for assistance," advises Heise.
Adding to the danger of an unprotected and submerged electrical device, installation challenges can increase the potential for failure. In many instances, wiring can be difficult to accomplish safely as the electrical cable must often travel over rock, resulting in increased potential for mechanical injury and moisture ingress. "Heat-Line always recommends a properly approved and armor jacketed electrical cable. The required ground fault devices or circuit breakers are generally unique to each electrical panel manufacture and, as a result, are often difficult to locate and are expensive; approximately $250 to $300. We believe that the Milliamp (MA-10) is an economical solution to a serious safety issue," adds Heise.
Contact Information:
Lorne Heise, CEO
Heat-Line Freeze Protect Systems
a division of Christopher MacLean Ltd.
1095 Green Lake Road
Carnarvon ON K0M 1J0
Local: 705-754-4545
Toll Free: 800-584-4944
http://www.heatline.com
About Heat-Line: Offering an extensive line of safe, innovative and energy efficient freeze protection products for the home and cottage, and for commercial, agricultural, industrial and transportation applications, Heat-Line is a Canadian company that develops and manufactures the most advanced freeze protection systems using state of the art self-regulating technology. In sub zero temperatures, you can rely on freeze protection products from Heat-Line to keep all of your water systems flowing. Visit http://www.heatline.com or call 1-800-584-4944 to learn more about Milliamp (MA-10), and many other quality Heat-Line products, including Kompensator, Paladin, Retro-Line, CARAPACE, and ArcticVent.