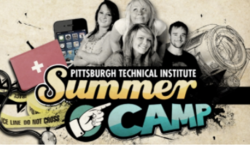 Pittsburgh, PA (PRWEB) June 05, 2013
Each summer, Pittsburgh Technical Institute welcomes high school students and recent graduates to spend three days and two nights in career discovery camps at its North Fayette campus.
This year, 2013 and 2014 high school graduates will explore careers with other students who share their interests at Camp Crimestoppers, Camp Med, Camp Design, Camp Technology and Camp Energy from July 29-31.
"Our camps are designed to help students discover careers by immersing themselves in career-focused activities," said Vince Gratteri, Associate Director of High School Relations for PTI. "Activities are fun and hands-on but what really makes camp so memorable for these students is the fact that they meet students from other high schools who share their interests while spending a couple of days on a college campus."
The format of summer camp includes group activities so students get to know other camp participants and dedicated classroom and lab sessions when students have the opportunity to examine career fields and learn what it takes to be successful. Sessions can include investigating a mock crime scene, drawing blood from a mannequin arm, creating an interactive e-advertising campaign or building a battle bot.
Camp MED will explore surgical technology, medical assisting, massage and patient care.
Camp DESIGN participants will learn about computer aided drafting, web design, graphic design, and video production.
Camp CRIMESTOPPERS will investigate the world of criminal justice, private safety and public safety.
Camp TECHNOLOGY students will work on projects that demonstrate what it's like to work in information technology and computer programming.
Camp ENERGY will explore careers in electronics and smart building technology and include a special focus on careers in the oil and gas industry.
Cost for the three-day camp is $100 and includes camp registration, all classes and sessions, hotel accommodations, meals, bus transportation to and from housing and events, entertainment and supplies.
Information and registration: http://www.pti.edu/summercamp
ABOUT PITTSBURGH TECHNICAL INSTITUTE
Offering career-focused education since 1946, Pittsburgh Technical Institute is a two-year college with a 180-acre campus in North Fayette, west of Pittsburgh.
PTI offers degree and certificate programs in areas such as Business, Criminal Justice, Hospitality and Culinary Arts, Design, Healthcare, Nursing, Information Technology, Trades Technology, and Energy and Electronics Technology. PTI also offers programs through PTI Online and culinary programs through the American Academy of Culinary Arts, AACA.
PTI students can take advantage of online course offerings, on-campus residence halls, student activities, intramural programs and community service programs.
PTI is accredited by the Middle States Commission on Higher Education.
PTI was recognized by its employees as one of the region's Top Places to Work in a 2012 study commissioned by The Pittsburgh Post-Gazette and is designated a Military Friendly School for the fifth consecutive year.
For more information, call 1-800-784-9675, or visit http://www.pti.edu/.