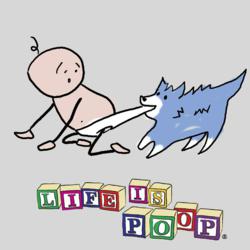 Life is Poop - a brand that speaks to all that stinks in diapers!
Manchester Vermont (PRWEB) June 06, 2013
From the creators of the hilariously silly and perfectly timed LIFE IS CRAP™ Brand, comes the newest, freshest and funniest collection yet—Life is Poop!
With a brand that speaks to all that stinks in diapers, come celebrate the wonderfully wacky world of babies and the perils, pitfalls and poopiness of raising kids. The funny Life is Crap guys have decided that even kids need t-shirts and other fun products to make them giggle and drool ... And parents and grandparents should all be able to proudly wear the latest and greatest baby expressions on adult clothes.
As a father himself, who knows better than Dean Darling, Life is Poop Studio Manager, who exclaimed, "My daughter gives me great joy, delight and comfort. My wife & I delighted in her first smiles, and we cherished every new tooth, and even laughed at dirty diapers—well, most of the time!"
But all is not blissful in the baby world! Mothers, fathers, sisters and brothers, aunts and uncles, grandparents and babysitters, have all shared in the exasperation of babiness: the green peas smeared into the carpet, the lipstick mashed into the cd player, the miles of tape stripped from your favorite old cassette, feeding the dog a dirty diaper, pulling out the toilet paper, eating enough sand to poop a pearl – and the list goes on. The way Life is Crap sees it – the baby bottle is half full – but sometimes it's half full of poop!
So instead of practicing safe sex, celebrate those sleepless nights, 20 hour days, colicky kids and dirty diapers with new products from Life is Poop. Visit the Life is Poop Site and check out the fun. The products make great new baby gifts guaranteed to bring a smile to the face of parents while doing the 2 am feeding.
About Life is Crap®
Life is Crap® is a humor based apparel company, with a focus on tees, hoodies, and gift items. Our brand focuses on crappy situations and pokes fun at the humor within those situations. At Life is Crap® we believe that the universal cure to crappy situations is laughter. We believe that poking a little fun at ourselves, and the world, is the best way to get through those occasional lousy moments. Life is Crap® is the flagship brand of Offsides Branding & Licensing. For more information visit lifeiscrap.com or offsidesbranding.com.