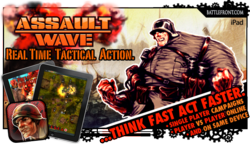 "It's Chess with Machineguns!"
(PRWEB) June 05, 2013
Developer and publisher Battlefront.com Inc. (http://www.battlefront.com/assaultwave) and Finnish game developer Aniway are very proud to announce an exclusive publishing deal of Assault Wave game for iPad (http://www.assaultwave.com/).
Assault Wave is a real time World War II themed tactical action game. The game has single player campaigns and battles initially for USA and Germany, and both online and on same device multiplayer modes. An iPad version will be released during the summer of 2013, and an iPhone version will be released later on.
Chess with Machineguns! Assault Wave is a deceptively simple game to learn, as you just drag & drop your chosen Units to the battlefield and issue Commands to alter the tactical situation, yet the game offers a multitude of tactical choices during the game play. The game play and controls have been specifically designed for touch screen devices like iPad.
Martin Van Balkom, President/Battlefront.com Inc.
"When I first saw Assault Wave, I quickly realized that it is a really unique game idea. A deceptively simple game, but with layers of tactics and strategy to master. It's fast paced and challenging, and the unique same-device mode — literally head-to-head play — as well as multiplayer via GameCenter, are explosively fun!"
Miikka Lyytikäinen, CEO/Aniway
"We have great respect for Battlefront, as we've had the pleasure of working with them in the past on the Combat Mission series. This is an excellent opportunity for us to reach the great and active community that Battlefront has."