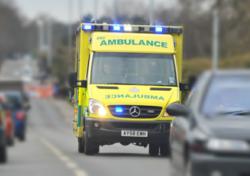 They weren't sure where they were going. They were following the sat-nav but it was sending them the wrong way.
Bolton, UK (PRWEB UK) 11 June 2013
Recent news reports from The Telegraph (01/06/2013) and BBC News (02/05/2013) highlight a fatal story of alleged medical malpractice in the UK. Bella Hellings, a 4-month-old baby died after a heart condition, allegedly worsened by less experienced ambulance paramedics. (1)
Although Ms Carter's 999 call was flagged by the trust as category A8 (target response of eight minutes), she said an ambulance took 26 minutes to arrive and, once on-board, the driver got lost on the way to West Suffolk Hospital, in Bury St Edmunds.
Questioned by BBC News, the mother declared:
"I stayed on the phone to them all the time and had to wait for them to get there. I can remember shouting at the people on the phone, asking them where they were. I went in the ambulance with them, they went to Bury, West Suffolk, but got lost on the way. They weren't sure where they were going. They were following the sat-nav but it was sending them the wrong way." (2)
According to the Telegraph article, when they arrived at the hospital, Bella had not been breathing for nearly one hour. She was taken for treatment and Ms Carter escorted to the relatives' room until the moment hospital medics told her there was nothing they could do.
"If they had got to her in time she would be alive today," said Miss Carter, who have pursued a compensation claim. "I couldn't let anyone else go through this," she added. "I feel sorry for the ambulance service if anything because they're getting the blame. It's not their fault. It's because they haven't got enough staff and enough money that they're like this. (1)"
The tragic death of Bella Hellings brings attention to the seemingly bad statistics regarding England's emergency services. According to the target set by the Government, paramedics need to reach 75% of 'life-threatening' cases within eight minutes. A second target states that ambulances must arrive within 19 minutes in 95% of all such cases. Unfortunately, as reported by The Telegraph, the last available data reveals that six out of ten English trusts failed to reach the first target and four of them also missed the second target (1).
Commenting on the news, Tom Fairclough, Executive at Asons Solicitors, commented that:
"Following the example of Bella's parents, those affected by medical malpractice must seek legal advice as quickly as possible. The NHS, as well as other medical authorities, are always defended by legal experts; which is why being represented by equally experienced personal injury solicitors is critical for the success of the claim."
For further information on pursuing damages for medical malpractice, visit Asons Solicitors at http://www.asons.co.uk, or contact them directly on: 01204 521 133
(1) telegraph.co.uk/health/healthnews/10093587/999-delays-that-cost-lives.html
(2) bbc.co.uk/news/uk-england-22379428

About Asons Solicitors:
Asons Solicitors is a Bolton-based law practice that specialises in personal injury and industrial disease claims. Founded by brothers Imran Akram and Kamran Akram, Asons Solicitors has developed to become a young and dynamic law firm that delivers practical solutions to clients in times of difficulty. Their continued focus on their staff has seen them awarded with the Investors in People "Gold Award"; which is reflected in the professional and personable approach they take in working with clients. They strive to grow and to develop, and their supportiveness and attention to detail ensures that their clients use them time and again.
For further information contact:
Email: info(at)asons(dot)co(dot)uk
Website: http://www.asons.co.uk