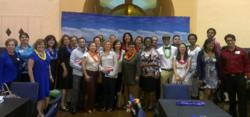 Lars Gilberts, Branches' Director of Financial Stability, stated that, "Without the support from so many VITA volunteers, Branches and its partners would not be able to make such a significant and positive impact in our community."
Miami, Florida (PRWEB) June 05, 2013
The Miami-Dade County VITA Tax Program volunteer preparers gathered together on Tuesday, May 7th at the First United Methodist Church of Coral Gables to celebrate the success of the 2012 Tax Season.
The Miami-Dade County Volunteer Income Taxes Assistance (VITA) Program is a collaborative that consists of 47 physical and virtual tax sites, ranging from high school students to retirees who received certifications to prepare free tax preparation services to low- to moderate- individuals with income, not in excess of $57,000.
By April 15th, the VITA Program had prepared over 5,115 tax returns.
Branches, in collaboration with Catalyst Miami, coordinated a fun "thank you" event, entitled "The 2013 VITA Volunteer Luau Recognition Celebration". The night was inclusive of festive treats, entertaining icebreakers, success stories, a presentation of certificates, and thoughts looking forward to the 2014 goals and objectives. With more than 75 attendees, the night culminated with each tax preparer receiving a gift; an "I Am VITA" gift bag, full of goodies which included a tumbler cup, and a fun pen and SAVE the Date magnets.
Branches is extremely grateful for its 11 VITA volunteers, who together with the Branches staff, helped prepare over 630 tax returns for our community.