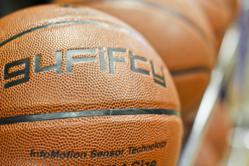 We have been extremely impressed by the fact that it was designed with basketball knowledge first but incorporates sophisticated technology that is easy to use."
Dublin, OH (PRWEB) June 04, 2013
For the past 20 years, AAU basketball has been known for providing talented young players visibility to college programs, but the world of AAU basketball has entered a new era for developing skill for the next generation of players. AAU Basketball and InfoMotion Sports Technologies have announced a marketing relationship to bring InfoMotion's innovative 94Fifty Bluetooth sensor basketball products to players and coaches across the country.
The 94Fifty® Bluetooth Sensor Basketball for consumers was unveiled in March 2013 and is the first product of its kind to measure and diagnose the quality of key skills critical to build confidence, versatility, and success in the game. The ball utilizes multiple motions sensors embedded inside the ball to measure the player who uses it in real time. It sends immediate shooting and ball-handling feedback to a mobile smartphone via Bluetooth, and will give players across the globe access to some of the most sophisticated training information and feedback to improve important muscle memory skills more efficiently and effectively wherever they play or train on a daily basis. The ball comes with four free apps that allow the player to train specific skills, work through levels of increasingly difficult workouts, compete head to head with any player based on their skills, and compete with anyone in the world via Twitter.
"The 94Fifty technology is exactly the type of product we want for players who participate at the AAU level. We have been extremely impressed by the fact that it was designed with basketball knowledge first but incorporates sophisticated technology that is easy to use," said AAU President, Henry Forrest. "Young players today respond to technology and objective information, and 94Fifty gives players, parents, and coaches instant feedback to immediately address the most important skills that coaches want and look for at all levels. 94Fifty represents the future of basketball development in the U.S."
The ball's measurements can prescribe proven, personalized methods to improve shooting mechanics, shot speed, shooting arc, power dribbling, hand-speed, mental coordination, and many other skills that have been traditionally impossible to measure. Exclusively featured on programs like ESPN Sport Science, a similar 94Fifty team product available since 2011, is already used by top college and high school programs across the U.S. and a growing list of international programs.
"AAU basketball has an outstanding reputation for providing players at all levels visibility to coaches for the hard work they put into their game. We bring the latest, cost effective technologies to help young players to develop skills, understand the game, become more confident, and ultimately reach their goals," said Michael Crowley, 94Fifty Founder and CEO. "The AAU's commitment to developing highly skilled players is a big part of the organization's success and we are proud to be a key piece of that equation." The marketing relationship will involve a range of activities to make this product available to players who participate in AAU basketball. Other efforts will include developing a standardized skill measurement system for AAU to monitor and measure skills for players even at the earliest level of play.
About InfoMotion® Sports Technologies (http://www.infomotionsports.com)
94Fifty® is the basketball brand of InfoMotion Sports Technologies Inc. (IST). InfoMotion is the world's pioneering leader for innovating sports products that quantify and digitize muscle-memory based athletic skills and for managing online communities in which our customers can share and compare results. 94Fifty develops sophisticated but cost-effective basketball skill analysis technologies for the mass market. 94Fifty is committed to bringing new information to both elite level and youth level basketball so that players can better develop skills and their coaches and trainers have objective information about their development. More information can be found at http://www.94Fifty.com.