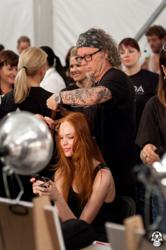 It is imperative that a stylist communicates with the designer before and during the show to achieve the designer's vision for the fashion show. - Andrea Bonner, Style On Demand
Austin, TX (PRWEB) June 04, 2013
FashionMingle.net, a networking and PR platform for fashion entrepreneurs, is hosting a Google+ Hangout titled Runway Roadmap: Building Your Styling Team on June 6th at 2:00pm EST. The online event will be an opportunity for fashion designers, wardrobe stylists, makeup artists, and hairstylists to learn from top professionals in the industry about styling for fashion shows and how to become a stylist at New York Fashion Week. Styling professionals are invited to submit questions at http://www.FashionMingle.net/TheBlueprint/.
Featured Panelists include noted makeup artist and entrepreneur Jentry Kelley of Jentry Kelley Cosmetics. Jentry began applying makeup professionally at the age of 18 to work her way through college. She has worked with the cosmetic brands MAC, Bobbi Brown, Laura Mercier and Chanel. Her cosmetic line has been used by designers such as Zac Posen and Monique Lhuillier.
Also featured are New York Fashion Week veteran hair stylists Dean Holcombe of Cutler Salons of New York City, and Dennis Clendennen, of Dionysus Salon and Spa of Houston, TX.
With over 30 years in the industry, Culter Salon Creative Director Dean Holcombe, leads a team of Redken editorial hair stylists for over 50 designers each season at New York Fashion Week. Dean is also known for his behind-the-scenes videos providing styling tips for their latest runway hairstyles.
Dennis Clendennen has styled hair backstage at New York Fashion Week for top designers spanning twenty seasons, including Betsey Johnson, Vera Wang, Michael Kors, Perry Ellis, Badgely Mischka and Catherine Malandrino. His work has been featured in magazines, websites and in advertising worldwide. Dennis is an Aveda stylist and is owner and head stylist of the Dionysus Salon Spa in Houston, TX.
Wardrobe stylist Andrea Bonner will also be a panelist on the Google+ Hangout. Andrea is owner of Style On Demand, a fashion consulting and styling firm and is a freelance fashion writer covering Houston, New York and London fashion weeks. Andrea helps prepare the next generation of fashion industry professionals in her position as Regional Director for The Fashion Group International of Houston, Inc. and as an adjunct professor for the Lifestyle Arts and Design Careers department of Houston Community College.
The Runway Roadmap series will be held every Thursday at 2PM EST, June 6 - 27 and is part 1 of "The Blueprint: Building Your Fashion Career", an on-going series that will feature fashion industry professionals sharing insight and advice about their areas of expertise in a live Q&A format.
"The Blueprint" series is produced by Jaxon Entertainment & Productions and is sponsored by Planet Fashion TV, Created Woman Magazine, and the Houston Fashion Bloggers Association.
About FashionMingle.net
FashionMingle.net is a network for fashion entrepreneurs to share, discover, and mingle. The online magazine, business directory, and social network creates a platform for fashion entrepreneurs to promote their services and grow their business.