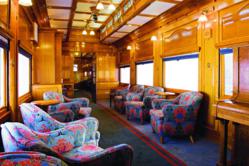 Train Chartering's experience makes private train carriage hire possible in many countries for corporate events, filming or special celebrations.
Chippenham, UK (PRWEB) June 06, 2013
The Train Chartering Company announces the promotion of private carriage and rail car hire in many countries of the world, tailored for special groups, corporate clients, leisure customers and for filming.
The Train Chartering Company is highlighting the opportunities to hire whole carriages on railways globally; ideal environments for delegate/incentive travel, filming or for private celebrations. The world's leading charter train supplier makes this possible in many countries around the world where there are passenger rail services.
Simon Pielow of Train Chartering says, "Train Chartering's experience in quality rail travel planning makes the hire of a private train carriage possible in many countries for corporate or marketing events, filming or simply for special celebrations."
In addition to the opportunity to rent a carriage in a regular, scheduled train, Train Chartering assists group organisers in the hiring of one or more cars in trains operating brochured rail tour journeys and holidays.
Here are some country-specific private rail car hire suggestions:
AUSTRALIA
The Chairman's Carriage is added on demand to a number of long-distance trains throughout Australia. The private rail car accommodates up to eight guests in two double bedrooms, which share a 2-way bathroom and two twin cabins with attached en-suite bathrooms. It also has a lounge with CD player, DVD and video entertainment, dining room and kitchen with chef/steward.
AUSTRIA
The Majestic Train de Luxe, replicating the imperial train of the Austro-Hungarian Empire, has a number of carriages that are chartered for special events. These beautifully-decorated cars operate mostly in Austria, Hungary, Slovenia, Switzerland and the Czech Republic, attached to regular rail services.
PERU
Inca Rail's Inca Princess is a private rail car for up to 12 passengers, the only carriage available for exclusive hire to and from Macho Picchu. Panoramic UV-protected side windows and curved overhead windows ensure uninterrupted views. Knowledgeable stewards ensure attentive service.
UNITED STATES
The ability to have one or more private rail cars coupled to a timetabled Amtrak train is almost unknown outside the USA; in fact, relatively few Americans are aware of this very special way to 'ride the rails'. Examples include the Warren R. Henry, a railcar with both an open rear viewing platform and a second-level observation dome (plus lounge, dining area, kitchen and bathrooms), and its companion sleeper car, the Evelyn Henry, with cabins and private bathrooms for 12 passengers.
UNITED KINGDOM
Pegasus is a classic bar car from the late 1950s, with a cocktail bar and salon area for up to 14 guests, which has been in the Orient Express British Pullman. This retro car is available as an addition to charter trains on pre-arranged rail tours throughout England, Scotland and Wales.
This is just some of the private carriages that Train Chartering provides to corporate clients, production companies and individual customers. Contact the company for more information about these rail cars and other quality train travel opportunities.
About Train Chartering
Train Chartering, now in its 15th year, has provided private train charters and carriage hires to a wide range of clients. Train Chartering operates mainly in the UK, Europe and North America - though rail travel can be arranged almost anywhere there are passenger trains.
Extensive experience and wide contact base allows the selection of the best trains available, along with a suite of onboard services, handling every detail from complex timetabling to food, entertainment and train branding.
For more information, please visit http://www.trainchartering.com, contact Simon Pielow on +44 (0)1249 890176 or email info(at)trainchartering(dot)com.
Train Chartering leads a group of rail booking sites: Luxury Train Club, Train Hire, Private Rail Cars, and World Train Travel.
The Luxury Train Club is part of Train Chartering, the personal booking service for the world's greatest train journeys, offering a concierge approach to booking train holidays, vacations and day trips as well as private rail charters and rentals for VIP and corporate bookings.