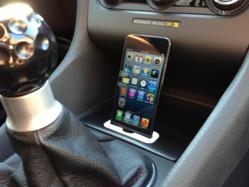 The best way to use iPhone 5 in your car.
Tucker, GA (PRWEB) June 06, 2013
Forget the wireless transmitters, charging cables and cigarette lighter USB chargers - 2point5 offers the world's only integrated iPhone and iPod dock for the car, and recently updated the spec.dock to support iPhone 5 and iPod Touch 5th generation.
After being released to the world at the Macworld conference in 2005 (the same year Apple announced it's switch to Intel chips, and the last year Steve Jobs gave the Keynote address at this show), spec.dock by 2point5 has stood alone in the marketplace as quite simply the best way to use iPod and iPhone in your car.
As the years have gone by, and Apple has made numerous changes to their lineup of iDevices - from changes in charging protocol to the introduction of the iPhone and the recent switch to the Lightning connector, 2point5 has managed to keep up with changes in technology at a rapid pace, offering more and more vehicle models every year while supporting nearly all iDevices from the archaic iPod Mini to the new iPhone 5. Now in its seventh year, spec.dock currently stands alone as the only way to connect an iPhone 5 or iPod Touch 5th generation to your car via a docking station specifically designed to seamlessly fit into your car's interior.
The change Apple made on these new devices was dramatic - leaving behind the venerable 30-pin connector that has been used on iDevices and all iPod and iPhone accessories since 2008 and switching to their proprietary Lightning connector. 2point5 quickly came up with a solution for both new and existing customers by integrating the Lightning connector into their spec.dock product and manufacturing laser-cut dock inserts for these new devices.