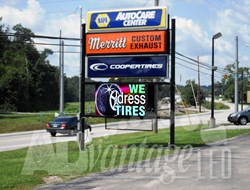 "With the help of this new sign, the community and surrounding areas will be more aware of what this great company has to offer." Richard James, ADvantage LED Signs
Georgetown, IN (PRWEB) June 05, 2013
ADvantage LED Signs proudly announces the completion of the Merritt Auto Repair sign installation in Georgetown, Indiana. Dennis Merritt, of Merritt Auto Repair, intends to use this sign for advertising company events and special deals.
Richard James of ADvantage states, "With the help of this new sign, the community and surrounding areas will be more aware of what this great company has to offer and ADvantage LED Signs is proud to be a part of helping this business grow."
For this installation, Merritt Auto Repair opted to go with a new 4'-5-3/8" X 7'-7-3/16" 10mm iPixel Full Color 128 x 224 iMatrix Double Face LED sign. The sign serves to increase traffic and exposure for the business, offering hours of operation, service prices, special service offers and community public announcements of importance to the citizens of Georgetown.
"Auto Service LED Signs continue to be the best advertising a company of this type can do as they consistently and constantly bring in new business and new customers," claims Dennis Merritt, owner and manager of Merritt Auto Repair.
Mr. Merritt continues, "What makes the sign so helpful is the fact that our employees control what the LED display shows and this can be changed based on current needs. The resolution is outstanding and, although the sign sits close to the ground and close to passing traffic, the resolution draws attention to what our service center has to offer." ADvantage LED Signs works closely with customers to determine which sign and which resolution best meets their needs.
ADvantage LED Signs offers a wide range of products designed to meet the needs of customers. Product offerings include Series 51 signs, HD full color signs, monuments and single color signs. Perfect for auto service centers, churches, hotels and medical centers, any business may benefit from the addition of an LED sign. ADvantage LED Signs assists customers in need of content creation and management, training, and software activation.
"The goal remains to provide customers everything they want and need in terms of the LED sign display. Rather than making a sale, the company becomes a partner, one who wants to see the client succeed in every way," Richard James declares.
About ADvantage LED Signs:
Established in 2009, ADvantage LED Signs fills a gap in the sign industry. Businesses in need of a signage solution that is both affordable and long lasting need look no further than ADvantage LED Signs. Backed by Vantage LED, ADvantage LED Signs offers customers expertise not typically found in the industry. Services offered include concept design, permitting, LED sign production, training and lifetime support. The company promises to provide total turnkey solutions while being present at every stage of the process. Based in the United States, ADvantage LED Signs provides LED signs and billboards, selling direct to organizations and businesses across the country. No job is too big or too small for this company to take on.