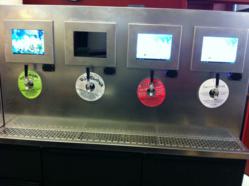 Customers who invest in our equipment really understand and value what we are bringing to their business. They instantly see their draft beer and wine sales increase
Baltimore MD (PRWEB) June 05, 2013
Innovative Tap Solutions is both the LLC's name and the business motto for the local entrepreneurial duo of Josh Goodman and Declan Duggan. They are the founders and co-owners of the business most people have come to know as pourmybeer.com
It's core products are their self-serve beer and wine walls where customers can serve themselves a tipple of their favorite beverage or something entirely new. Duggan said "Customers really like the freedom to try new beers and wines. Our systems give them that freedom as they are not tied to a particular glass size anymore. They get charged by the ounce, so they can sample 3 ounces of one beer, 4 of another or full 16 ounce glass if they feel like it. The choice is theirs and they pay for what they want".
They have paired up with a software Company based in Santa Ana, CA to truly meld the most robust, cutting edge technology in the self-serve arena with the most experienced hardware designers and marketers in the business. Combined, they are now the largest and most experienced team in the self-serve adult beverage space.
Recently featured on Spike TV's 'Bar Rescue', and with another foray into the upcoming season likely, they are poised for explosive growth. PourMyBeer is also crossing over into self-serve wine with their newest product line, "The Wine Wall". It's a dual temperature, four faucet mobile unit that pours 'on-tap' wine. A number of these units have made it (with beer walls as well) to some blue chip hotel locations already. The hotel guests use their existing room keys to access beer and wine. The guests pour and pay for exactly what they consume during their stay. Upon checking out, what they consumed shows up on their room folio. Genius!
"Customers who invest in our equipment really understand and value what we are bringing to their business. They instantly see their draft beer and wine sales increase. They also experience greater repeat business, happier guests and, most importantly, large savings on waste, giveaway and sales losses due to poor service. We are cutting new bar build-out costs by anywhere from 70-85% while increasing their sales. There are multiple hotel types where these make absolute sense rather than installing a new, full bar" Goodman commented.
They also make mobile draft beer tables. Built-in versions of all of their equipment are also on offer though they say these are mostly used in new construction or refurbishments as it requires running beer lines from a cold storage area to tables or a wall location.
"Our built-in beer walls and mobile beer walls have really jumped out ahead of our mobile table sales in the last few months" said Duggan. "Our current research shows us that consumer behavior around the beer walls is pushing greater volume throughput than our tables right now. People sample, fill up and move on whereas they tend to hang out more at the tables which promotes a fun atmosphere but less overall sales. No matter the product, our customers sell substantially more beer. If we were to put the products side by side, the walls are coming out on top right now, until we unveil what's coming next of course". He would not let us in on what that is just yet but based on their introductions to date we assume something that will be another "why didn't we think of that moment".
http://www.pourmybeer.com is an Innovative Tap Solutions Company. The company was formed in MD in 2008 and made the first commercial mobile self-serve beer tables in the US. It also sells and distributes fixed beer walls, mobile beer walls, fixed draft tables and mobile draft self-serve tables. All mobile equipment is made in the USA. Contact sales (at) pourmybeer (dot) com or call 215-219-9203/443-691-2337