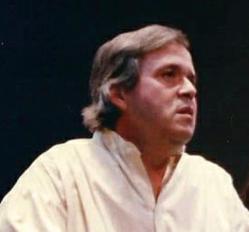 Verdi's classic has it all: vengeance, war, jealousy, and passion, with an emotional, heart-stopping score.
Warren, NJ (PRWEB) June 11, 2013
Eastern Opera of NJ continues its premier season with a production of Giuseppe Verdi's powerful drama, Otello, based on the great Shakespeare tragedy, Othello.
Set in the late 15th-century during the wars between Venice and Turkey, Verdi's classic has it all: vengeance, war, jealousy, and passion, with an emotional, heart-stopping score. The story focuses on the moor Othello whose jealousy and then despair create a downward spiral resulting in his utter demise and eventual suicide.
Otello will be sung in Italian with one semi-staged performance on August 11th at 3 p.m. with the Baroque Orchestra of New Jersey at the Dolan Performance Hall, College of St. Elizabeth in Morristown and three fully staged performances with orchestra, scheduled for Friday, August 16, and Saturday, August 17 at 8 p.m.; and Sunday, August 18 at 3 p.m., Brook Theater, 10 Hamilton St, Bound Brook, New Jersey. Tickets are on sale at the Eastern Opera of NJ Box Office, by phone at (908) 566-5708 or online at http://www.easternopera.org/tickets.
The combination of Arrigo Boito's libretto and Verdi's poignant melodies make Otello an extraordinary combination of drama and music. Written late in his career, Verdi's penultimate opera, Otello is a mesmerizing story of romance, conspiracy, obsession, and retribution.
The characters, Othello and Desdemona, are passionately in love with one another; they marry and build a life together, despite their differences in age, race, and life experiences. But their marriage is sabotaged by the envious Iago, who despises Otello and weaves an intricate plot intended for Otello to doubt Desdemona's fidelity to him, and eventually lose all sense of reason.
The evil and manipulative Iago plays Othello like a puppet. Iago plants vile thoughts in Othello's mind and creates a fictional relationship between Desdemona and Cassio. Convincing Othello that Desdemona must be killed immediately, Iago conspires to have Cassio killed too. These actions cause Othello to go crazy and kill Desdemona and then take his own life. In the end, Iago is taken away and tortured for his evil deeds. Yes, this is what dramatic opera is all about!
Eastern Opera's production features Peter Lewis and John Tedeschi alternating in the title role; Karole Lewis and Victoria Wefer as Desdemona; Ted Dougherty and Minsu Park as Iago; Kevin Peters as Cassio, Ira Barth as Roderigo and Steven Fredericks as Lodovico.
The Baroque Orchestra of New Jersey will be conducted by Dr. Robert Butts. Stage Director Karole Lewis has designed a stunning set and period costumes that support the dramatic action and singing on stage alongside the intense and glorious music in the orchestra pit.
Dr. Robert Butts, Eastern Opera's founding music director and principal conductor, will conduct Otello fresh from an appearance at the Varna International Summer Music Festival in Bulgaria. Dr. Butts is New Jersey's most wide-ranging conductor, exploring the operatic as well as the orchestral worlds, the earliest major works of the Baroque period through compositions of the twenty-first century.
Dr. Butts is the only conductor to have conducted three Wagner Ring Operas (Die Walküre, Das Rheingold, and Siegfried) in New Jersey. He is the only conductor to have led three Handel operas (Acis and Galatea, Semele, Giulio Cesare) in New Jersey. He conducted premieres of over a dozen works for large and small ensemble.
Dr. Butts has appeared with orchestras in the United States and Europe, including the Berlin Sinfonietta in Berlin, Germany; the Congress Orchestra in St. Petersburg, Russia; Opera Constanta in Romania; Bohuslav Martinu Orchestra in the Czech Republic; and other ensembles in Eastern Europe.
Karole Lewis, Eastern Opera's founding President will direct the opera and sing the role of Desdemona. Ms. Lewis has directed several operas both on the East and West coasts. In New Jersey, Ms. Lewis directed La Traviata with Opera at Florham; Don Giovonni and Magic Flute with The Baroque Orchestra of New Jersey and most recently Madama Butterfly, Eastern Opera's inaugural opera performed in May 2013.
In California, Ms. Lewis directed operas for Livermore Valley Opera, Monterey Opera and Santa Cruz Bay City Opera, a company that she and her husband Peter Lewis founded. Karole Lewis and Peter Lewis, soprano and tenor, have a long career in opera in New York, New Jersey and California, and have performed together in scores of operas and operettas over the past 25 years.
Eastern Opera Corp. is a nonprofit corporation organized and operated exclusively for charitable purposes. Specifically, Eastern Opera has been formed to encourage and instruct individuals for the purpose of improving or developing their capabilities, to educate the public on subjects useful to the individual and beneficial to the community, and to promote the arts and culture to the local communities. The first opera performance, Puccini's Madama Butterfly (May, 2013) was met with standing ovations.
For more information contact Lou Kersey at loukersey(at)easternopera(dot)org or visit http://www.easternopera.org.