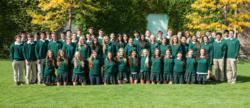 Waterford students are prepared to excel at the nation's most selective universities
Sandy, Utah (PRWEB) June 06, 2013
The Waterford School has released its college admissions statistics for the 2013 graduating class. One hundred percent of Waterford's Class of 2013 has been accepted to four-year colleges or universities. Over the past 5 years, Waterford students have matriculated to 95 different colleges and universities.
Waterford students begin working with experienced college counselors in ninth grade. Through the course of their high school years, students have the opportunity to meet with 35-40 visiting college representatives per year. This enables students to have a broad and far reaching understanding about varied colleges and university programs. Waterford students apply on average to between 5 and 7 colleges or universities and approximately 60% of Waterford graduates attend out of state schools.
"Waterford students are prepared to excel at the nation's most selective universities, and each year they gain acceptance to these institutions. They are motivated, interested and focused on continuing academics and opportunities at the highest level," said Sari Rauscher, Director of Waterford's College Counseling Department. "As professional college counselors, our mission is to find the school that is best suited for the individual goals of each student."
The Waterford School is a private, liberal arts college-preparatory school for students in preschool through grade 12. For more information visit http://www.waterfordschool.org.
Waterford School Class of 2013 College Acceptances:
American University
University of Arizona
College of the Atlantic
Austin College
Baylor University
Boston College
Boston University
Brandeis University
Brigham Young University
BYU-­Hawaii
BYU-­Idaho
University of British Columbia
Bucknell University
University of California-­ Berkeley
University of California-­Los Angeles
University of California-­San Diego
University of California-­Santa Cruz
University of California-­Irvine
California College of the Arts
Calvin College
Chapman University
University of Chicago
Colburn School Conservatory of Music
Colgate University
Colorado College
Colorado State University
Dartmouth College
University of Denver
Emory University
University of Evansville
Evergreen State University
Fairfield University
Fordham University
George Washington University
Georgetown University
University of Hawaii
Indiana University-­Jacobs School of Music
Ithaca College
Kalamazoo College
Lawrence University
Lewis and Clark College (OR)
Loyola University New Orleans
Macalester College
Marist College
University of Miami
University of Michigan
Michigan State University
New College of Florida
New England Conservatory of Music
North Idaho College
University of North Carolina, ­Chapel Hill - Morehead Cain Scholar
Northwestern University
Northern Arizona University
Occidental College
Oregon State University
University of Oregon
University of Portland
Princeton University
University of Puget Sound
University of Redlands
Reed College
Rensselaer Polytechnic University
Rochester Institute of Technology
St. Mary's College of CA
University of San Diego
San Diego State University
University of San Francisco
Santa Clara University
School of the Museum of Fine Arts-­Boston
Scripps College
Skidmore College
University of Southern California
Southern Utah University
Southern Virginia University
Stony Brook University
Stanford University
St. Olaf College
University of Tampa
Trinity University
Tufts University
Tulane University
University of Utah
Utah State University
Vanderbilt University
Vassar College
University of Victoria
University of Virginia
Washington University in St. Louis
University of Washington
Western Washington University
Wesleyan University
Westminster College
Whittier College
Willamette University