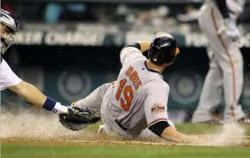 Baltimore, MD (PRWEB) June 04, 2013
Orioles fans can now find their 2013 Orioles tickets, news and game schedule at http://www.Orioles-Tickets.org.
For the second time this season, Orioles first baseman Chris Davis was named American League Player of the Week. In their seven games last week, Davis led the MLB with a .481 batting average. He also led the AL in hits, total bases, slugging percentage, and runs scored. Furthermore, he had 4 home runs that tied for the most in the American League. With a total of 52 RBI's on the year, Davis had 6 last week. He is first in home runs with a total of 20. http://baltimore.orioles.mlb.com/news/article.jsp?ymd=20130603&content_id=49490432&vkey=news_bal&c_id=bal.
On top of two player of the week awards and being April's player of the month, Davis leads the voting for AL first baseman in the All-Star voting count. If Davis were to get the start for the AL team, he will be the first O's first baseman to do so since 1985. Davis currently has 1,176,016 votes, and is ahead of Tigers' Prince Fielder and the Red Sox's Mike Napoli. Making his MLB debut for the Rangers at 22 years old, Davis is now 27 and in the spotlight. With his career taking some unexpected twists and turning him into one of the greatest hitters in baseball, he very well may stay in that spotlight for a long time to come. To watch Davis hit one of his famous home runs and help his team conquer the AL East, go to Orioles-Tickets.org. Here you can also find an easy read game schedule, a Orioles social media fan hub, and an active blog to get all the current Orioles news. http://baltimore.orioles.mlb.com/news/article.jsp?ymd=20130603&content_id=49490424&vkey=news_bal&c_id=bal.